Defective Bicycles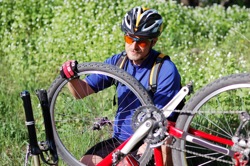 Whether you have spent a couple hundred dollars on your bicycle or several thousand, you expect it to be reasonably safe. But sometimes, a manufacturer will cut corners by rushing the design, using cheap component parts or failing to provide proper warnings and instructions. Sometimes defective bikes get recalled by the Consumer Product Safety Commission (CPSC). For instance, already in 2012, the CPSC has recalled over 10,000 bikes from two different manufacturers because they pose a risk of injury due to cracking frames and breaking forks. But more often than not, the safety problem is not identified in time and a serious bicycle accident occurs.
If you or a loved one has been involved in a serious bicycle accident due to a defective bicycle or equipment, you should preserve all parts of the bike and, if it is still available, any packaging or literature received at the time of purchase. Do not repair the bike, wash it or otherwise alter it from its accident condition. Then, contact one of the experienced bike accident attorneys at The Law Offices of John Day, P.C. for a free, no-obligation consultation. We will throughly review and evaluate your case and advise you of your rights.
Product liability cases against bicycle manufacturers are complex and expensive. But, our team of bicycle attorneys has the necessary experience and reputation to get you the compensation you deserve. In 2009, 2010, 2011 and 2012, Best Lawyers recognized John Day in the areas of Products Liability and Personal Injury Litigation. And, we have the financial wherewithal to stand-up to the big manufacturers. We advance all case expenses so you are not out of pocket any money to pursue your bicycle accident case.

If you would like to discuss a potential bicycle accident claim, please contact us online or call us at 615-742-4880 or 866.812.8787. We have recovered more than $100 million dollars for our clients and we would like to help you and your family too.