Bicycle Accidents Involving Children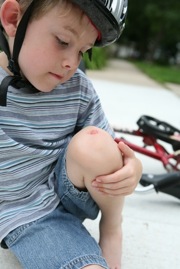 Learning to ride a bicycle is a rite of passage of childhood. It symbolizes a new level of independence because now your child can ride their bike to the swimming pool, the park or a friend's house. But, it can also be a new source for injury. According to the 2010 National Highway Traffic Safety Administration report, in that year, 67 children under the age of 16 were killed in bicycle accidents and another 12,000 were injured. While some bicycle accidents involving children are attributable to the child's inexperience or lack of a helmet, they are also frequently caused by careless motorists who were speeding, texting while driving, talking on the phone, etc.
When a tragic accident happens, you need one of our experienced bicycle accident attorneys fighting for your child. If there are witnesses to the accident, they need to be interviewed and their favorable testimony secured. If there are not any witnesses, we routinely work with highly-qualified accident reconstruction experts who can analyze the bicycle, the other driver's vehicle, skid marks and other physical evidence at the scene to prove the accident was the fault of the motorist and not your child. Our on-staff nurse can assist with medical issues and questions, and we use accomplished medical and economic experts to fully explain the nature and extent of your child and your family's damages.
For more than 80 years, we have held an unwavering commitment to the rights of injured children. We understand the concerns of parents who worry about their child's recovery, the enormous medical bills, their child's future medical care and so much more. We want to help your child get the compensation they deserve and give the parents the peace of mind of knowing their child will receive the best possible care. In cases involving the death of child, we will help you hold the responsible party accountable and get your family appropriate compensation for your unspeakable loss.
If your child has been the victim of a bicycle accident, please contact us online or call us at 615-742-4880 or 866.812.8787 for a free, no-obligation consultation. If you are unable to come to our office, we will gladly come to your home or the hospital. We handle all bicycle accident cases on a contingency basis which means we only get paid if we win. And, unlike some lawyers, we advance all case expenses so you are never out of pocket any money to pursue the compensation you deserve. To learn more about our fees and how we handle case expenses, click here.