Preventing Dog Bites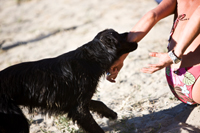 Fortunately, there are some steps you can take to reduce the likelihood of being a victim of a dog bite or dog attack. The Centers for Disease Control and Prevention (CDC) has published the following recommendations for preventing dog bites and parents are encouraged to teach children these safety tips:
Do not approach an unfamiliar dog.
Do not attempt to pet a dog that is eating, sleeping or caring for puppies.
Do not attempt to pet a dog until you first let it see and sniff you.
Do not run from a dog and scream.
Remain motionless (e.g. "be still like a tree") when approached by an unfamiliar dog.
If knocked over by a dog, roll into a ball and be still.
Do not play with a dog unless supervised by an adult.
Immediately report to an adult any dogs exhibiting aggressive or unusual behavior.
Avoid direct eye contact with a dog.
Do not treat a dog unkindly. Do not hit, slap or kick it.
If bitten, immediately report it to an adult.
If you are about to add a dog to your family, the CDC offers the following considerations:
If you have children, select a breed that does not have a history of aggression especially if your children are very young.
If your children seem fearful or anxious around dogs, you should delay adding a dog to your household.
Spend time with a dog before buying or adopting it so you can get a sense of its disposition.
Never leave infants or young children alone with a dog.
Do not play aggressive games with your dog i.e., wrestling.
Consult your veterinarian, an animal behaviorist or responsible breeder for help in selecting a suitable breed for your household.
Properly socialize, train and discipline your dog.
Immediately seek professional help from a veterinarian, breeder or animal behaviorist if your dog exhibits aggressive or unacceptable behaviors.
If you or a loved one has been the victim of a dog bite or dog attack, know your rights. With more than 80 years of experience, our team of dog bite attorneys will help you get the justice and the compensation you deserve.

Contact us online or call us any time of day at 615-742-4880 or toll-free at 866.812.8787. We only get paid if we recover money for you, and we advance all case expenses so you are never out of pocket any money to pursue your dog bite case. To learn more about our fees and case expenses, click here.

Other Dog Bite Information: