Insurance in Dog Bite Cases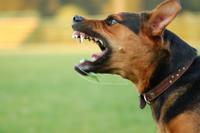 If you are a dog owner, you are responsible for the conduct of your dog. There are roughly 4.7 million dog bites each year, and the insurance industry pays approximately $1 billion dollars in claims each year. According to insurance sources, dog-related damages are the biggest cause of homeowner's claims. So, dog ownership is not an inconsequential risk.
Because most victims know the dog that bit or attacked them, it is usually the dog owner's family, friends and neighbors who are most at risk for a dog bite or dog attack. If the attack is serious enough, a lengthy hospitalization and reconstructive surgeries may be required. In the event your dog bites or attacks someone, you better have quality insurance to protect the victim and yourself.

While most homeowner's policies provide coverage for dog bites, insurance companies are starting to limit coverage or exclude it altogether for certain "bully breeds". Dogs typically characterized as a bully breed are Rottweilers, Doberman Pinschers, Akitas, German Shepherds, Siberian Huskies, Chow Chows, Alaskan Malamutes and American Pit Bull Terriers. But, even with these bully breeds, a responsible dog owner can purchase specialty insurance. All dog owners should check their homeowner's policies and ensure appropriate coverage is available under the policy. If it is not, a responsible dog owner should purchase supplemental coverage from a specialty insurance carrier.
If you are the victim of a dog bite or dog attack, we may be able to make a claim against the homeowner's insurance policy. While we understand you may have some reservations about making a claim against your family member, friend or neighbor, you shouldn't. Dog-inflicted injuries are part of the coverage the responsible dog owner has been paying for each time he writes a premium check to the insurance company. And that insurance coverage can pay for your pain and suffering, medical bills, lost wages, future medical care, etc. And, if the dog owner does not have insurance, you should not bear the physical, emotional and financial burdens of his failure to be responsible.
If you, your child or loved one has been bitten or attacked by a dog, let one of our experienced dog bite attorneys help you and your family get justice and the maximum compensation reasonably possible. Our results speak for themselves -- we have recovered more than $100 million dollars for our clients and we would like to help you too. Call 615-742-4880 or toll-free at 866.812.8787 or contact us online.
Other Dog Bite Information: