Can I File Suit if I am Still Treating for My Injuries?
I was the victim of a dog bite or dog attack. Can I make a claim or file suit if I am still treating for my injuries?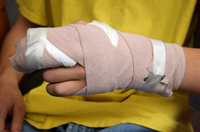 The short answer is yes. Tennessee law does not require you to be fully recovered before you can seek compensation for your losses. In fact, in serious dog bite cases, the recovery period can be extensive due to reconstructive surgeries. But, the law does place limitations on how long you have to pursue your rights. So, you should not delay. Because while it is never too soon to seek help from our experienced team of dog bite accident attorneys, it can be too late.
If you have been bitten or attacked by a dog, contact us online or call us any time at 615-742-4880 or toll-free at 866.812.8787. We will immediately set up a free, no-obligation consultation at our office. Or, if necessary due to your injuries, we will gladly come to your home or the hospital. We will thoroughly review your case and advise you of your rights and walk you through what to expect. We do not get paid unless we recover money for you. And unlike some lawyers, we advance all necessary litigation costs. Call us today so we can start seeking justice for you and your family.
Other Dog Bite Information: