Meningitis and Its Symptoms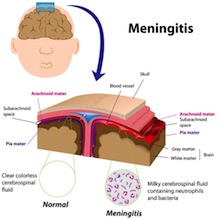 Meningitis is an inflammation of the lining of the brain and spinal cord caused by infection. The infection can be viral, bacterial or fungal. Regardless of the type of infection that caused it, adults affected with the disease will show classic signs of meningitis including headache, fever and stiff neck. Other symptoms for adults may include sensitivity to light, vomiting or nausea with headache, confusion or inability to concentrate, seizures, excessive sleepiness and, in some cases, a skin rash. Bacterial and fungal meningitis can be life-threatening so prompt medical attention is necessary. Additional information on meningitis can be found utilizing the links above.
To be sure, not all cases of meningitis give rise to a legal claim. But, some do. For instance, a medical facility or hospital that is not following proper infection prevention policies and protocols may be responsible if it results in a patient contracting meningitis. Or, if the medical staff fails to properly diagnose or treat a case of meningitis, it may constitute malpractice. Each case will turn on the facts, so it is essential to hire a lawyer who is experienced in brain injury and medical malpractice cases. John Day was recently named Lawyer of the Year in Medical Malpractice Law (Nashville Area) by Best Lawyers, and he was asked to testify multiple times at the Tennessee Legislature about the major changes recently made to the to the state's medical malpractice and tort laws. John and our on-staff nurse would be happy to discuss your case with you free of charge. From anywhere in Tennessee, call us any time of day at 615-742-4880 or toll-free at 866.812.8787 or contact us online. We have recovered more than $100 million dollars for our clients, and we would like to help you too.