Carbon Monoxide Symptoms and Treatment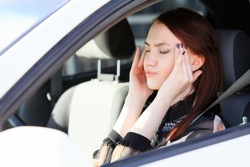 The most common signs of carbon monoxide poisoning include headache, nausea, dizziness, weakness, confusion, shortness of breath, blurred vision, vomiting and ultimately loss of consciousness. Inhalation of carbon monoxide decreases the body's ability to absorb oxygen which can damage brain and heart tissue and even cause death.
If you suspect carbon monoxide poisoning, the most important thing you can do is get some fresh air. Once away from the source of the carbon monoxide, seek immediate medical attention. At the emergency room, a blood test can confirm whether you have been exposed to carbon monoxide. Treatment may include receiving oxygen via a mask or receiving hyperbaric oxygen therapy. Hyperbaric oxygen therapy involves being placed in a pressurized chamber with increased air pressure, which speeds oxygen into the blood stream. Hyperbaric oxygen therapy is typically used in two situations: (1) for severe cases of carbon monoxide poisoning and (2) for pregnant women who have been exposed to carbon monoxide.
At The Law Offices of John Day, P.C., we understand the devastating effects of carbon monoxide poisoning. Medical bills and lost wages cause financial burdens. But worse yet, the victim and the victim's family must cope with the physical and emotional aspects of the poisoning. Tragically, this can include permanent brain damage and the resultant loss of function and changes in personality. And in some cases, it means the indescribable loss of a family member.
If you would like to discuss a possible carbon monoxide poisoning case, one of our award-winning lawyers will be happy to meet with you in a free, no-obligation consultation. If it is not possible for you to come to our office, we will gladly come to you at your home or medical facility. We handle all carbon monoxide poisoning cases on a contingency basis which mean we only get paid if we recover money for you. And because we advance all case expenses, you will never be out of pocket any money to pursue your carbon monoxide poisoning case. From anywhere in Tennessee, call us at 615-742-4880 or toll-free at 866.812.8787 or contact us online.