Carbon Monoxide Poisoning
At The Law Offices of John Day, P.C. We Fight for Victims of Carbon Monoxide Poisoning.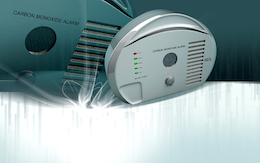 Carbon monoxide is colorless, odorless and tasteless. And, that is the problem. Victims do not know they have been exposed to it until they begin suffering with symptoms such as headaches, nausea, dizziness, etc. Because these symptoms are similar to the flu and other illnesses, victims will often delay seeking critical medical treatment. Or worse yet, hoping to feel better with a little rest, they will lie down in the poisonous environment and never wake up. According to the Centers for Disease Control and Prevention, 15,000 people seek medical treatment for accidental carbon monoxide poisoning every year. Tragically, another 500 will die from it each year.
If you or a loved one has been the victim of carbon monoxide poisoning, our award-winning attorneys can help you determine who is to blame. Potential defendants in carbon monoxide cases can include property owners such as hotel owners and landlords. Alternatively, the manufacturer of a defective carbon monoxide detector or a defective generator may be to blame. Oftentimes, the culpable party in these types of cases is a home builder or a maintenance company.

Once we determine who is responsible, our experienced team of carbon monoxide poisoning lawyers will help you get the justice and the compensation you deserve. For more than 80 years, we have dedicated ourselves to helping injury victims. Our hard work and commitment has resulted in us recovering more than $100 million dollars for our satisfied clients.
Why do we emphasize that we have recovered more than $100 million dollars? Because some lawyers will go to trial against an unrepresented and uninsured defendant who has no assets. The lawyer will win a big verdict against the defendant but will never actually recover any money for their client because the defendant did not have insurance or assets. Despite not putting a single penny in the client's pocket, some lawyers will still use the big verdict to make themselves look more successful than they truly have been. At The Law Offices of John Day, P.C. the only thing we care about is the amount of money we put in our client's pocket. A big verdict on paper is not our definition of a win.
We Are Your Voice When You or a Loved One Has Been the Victim of Carbon Monoxide Poisoning.
We understand you have a choice in attorneys, and it may be hard to decide who can best represent you and your family. So, here are some testimonials from our former clients who are glad they chose us. In addition, we encourage you to review some of the awards and honors our firm has received.
Contact Us Today and Speak With One of Our Tennessee Carbon Monoxide Poisoning Attorneys for Free.
From anywhere in Tennessee, call us any time of day at 615-742-4880 or toll-free at 866.812.8787 or contact us online. We will thoroughly review and evaluate your case during a free, no-obligation consultation. If your injuries prevent you from coming to our office, we will gladly come to your home or the hospital. We handle all carbon monoxide poisoning cases on a contingency basis, which means we only get paid if we recover money for you. To learn more about our fees and expenses, click here.