IV Infiltration Injury Attorneys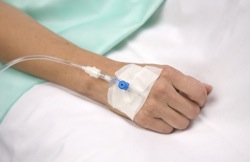 A majority of hospitalized patients require the administration of IV fluids or medications at some point during their stay. And while intravenous therapies offer many benefits, an IV can present serious risk to the patient if it becomes dislodged from the vein. The result is fluid or medication is then pumped into the patient's tissue potentially causing pain, nerve damage, tissue necrosis, permanent disfigurement and the need for surgical intervention. Certain fluids and medications are particularly dangerous including solutions with potassium, chemotherapy agents, calcium, vasopressors and antibiotics. Early detection of an IV infiltration is critical as a successful outcome is often tied to how much fluid or medication escapes into the tissue and how quickly the medical staff responds to the problem.
Typical signs of IV infiltration include:
Swelling at the IV site
Skin that is cool to the touch or blanched
Stretched or taut skin
The infusion has stopped or slowed
Fluid leaking from the IV site
Damp or wet bandages or dressings at the IV site
Pain
Depending upon the type of solution being administered and the type of patient (pediatric, geriatric, etc.), certain protocols should be followed for monitoring an IV site. While IV infiltration can happen even with due care, a prolonged failure to recognize and treat the infiltration is the result of malpractice in most situations.
If you or a loved one has been the victim of an IV infiltration, contact one of our experienced medical malpractice attorneys for a free, no-obligation consultation. Our firm has successfully handed IV infiltration cases so we understand the law, the medicine and how to win. Please contact us online or call us at 615-742-4880 or 866.812.8787.