IV Infiltration Injury Attorneys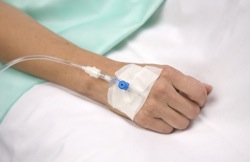 A majority of hospitalized patients require the administration of IV fluids or medications at some point during their stay. And while intravenous therapies offer many benefits, an IV can present serious risk to the patient if it becomes dislodged from the vein. The result is fluid or medication is then pumped into the patient's tissue potentially causing pain, nerve damage, tissue necrosis, permanent disfigurement and the need for surgical intervention. Certain fluids and medications are particularly dangerous including solutions with potassium, chemotherapy agents, calcium, vasopressors and antibiotics. Early detection of an IV infiltration is critical as a successful outcome is often tied to how much fluid or medication escapes into the tissue and how quickly the medical staff responds to the problem.
Typical signs of IV infiltration include:
Swelling at the IV site
Skin that is cool to the touch or blanched
Stretched or taut skin
The infusion has stopped or slowed
Fluid leaking from the IV site
Damp or wet bandages or dressings at the IV site
Pain
Depending upon the type of solution being administered and the type of patient (pediatric, geriatric, etc.), certain protocols should be followed for monitoring an IV site. While IV infiltration can happen even with due care, a prolonged failure to recognize and treat the infiltration is the result of malpractice in most situations. In other words, the fact that IV infiltration occurred does not necessarily give rise to a clam, but the failure to notice and treat the IV infiltration could form the basis of a medical malpractice claim.

The best way to know if you have a valid medical malpractice claim is to talk to an experienced medical malpractice lawyer. John Day is a certified as a Medical Malpractice Specialist by the American Board of Professional Liability Attorneys. On two separate occasions, he has been named the Medical Malpractice Lawyer of the Year for Nashville by Best Lawyers. In recognition of his expertise, the Tennessee Legislature asked John to testify about changes in Tennessee's medical malpractice laws. Finally, we have a nurse on staff full-time to assist with medical issues. Because in a medical malpractice case, you have to understand both the medicine and the law.

If you or a loved one has been the victim of an IV infiltration, contact one of our experienced medical malpractice attorneys for a free, no-obligation consultation. Our award-winning team handles all medical malpractice cases on a contingency basis, which means we do not get paid unless we recover money for you. And, unlike some firms, we advance all case expenses interest-free, so it costs you nothing out-of-pocket to pursue your legal rights. And as always, if you are unable to come to us for any reason, we will gladly come to you. But, please remember: medical malpractice cases are complex and take significant time to investigate properly before filing suit. For example, medical providers routinely take up to 8 weeks to just send us your medical records. So, do not delay. Instead, give us a call to get started:

Nashville: 615-669-3993
Murfreesboro: 615-867-9900
Brentwood: 615-742-4880
Toll-Free: 866-812-8787