Medication Error Injury Attorneys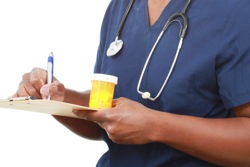 Hospital and nursing home patients rely on nurses to accurately administer the medication prescribed by the doctor, and it can mean the difference between life and death. In order to ensure patient safety, nurses are taught to follow the Five R's or Five Rights of medication administration:
Is this the RIGHT patient?
Is this the RIGHT dose?
Is this the RIGHT time for the medication to be given?
Is this the RIGHT route (i.e, tablet, via feeding tube, injection)?
Is this the RIGHT medication?
Despite these simple rules, at least 1.5 million people per year are harmed by medication errors according to the Institute of Medicine. The injuries can be serious and disabling or can even result in death.
For more than 30 years, the injury attorneys at The Law Offices of John Day, P.C. have been the voice of victims of medication errors. John Day is board-certified in Medical Malpractice by the American Board of Professional Liability Attorneys. Twice he has been named the Medical Malpractice Lawyer of the Year for Nashville by Best Lawyers. Because of his reputation and experience in medical malpractice, he testified for the Tennessee Legislature about Tennessee's medical malpractice laws. And, so that we can fully understand the medicine involved in your case, we have a nurse on staff full-time.
Each year, our office receives roughly 1,500 calls from people who believe they have been the victim of medical malpractice. The reality is that people often have bad outcomes following a medical procedure, hospital stay, doctor's visit, etc. and no one in the medical community is to blame. And for this reason, we must turn down the overwhelming majority of these cases. Even if a medical provider made a mistake, we often must turn down the case because the injury is not serious enough to make it financially feasible to pursue the case. For example, if the maximum recovery is likely to be in the $100,000 range but the case will cost $150,000 to pursue because of the number of defendants and the necessary experts that will be required then we simply cannot take that case. Stated differently, we (you and our office) will not recover more than we will spend to prove the case under the strict requirements of Tennessee law.
Despite this difficult landscape, we nonetheless provide a free, no-obligation consultation on all medical malpractice cases because we want injury victims to understand their legal rights and options. So, if you think you may have a medical malpractice case, we encourage you to call our office or contact us online. Our award-winning attorneys handle all accident cases on a contingency basis which means we only get paid if we win. If you would like to learn more about our fees and how we handle case expenses, click here. Then, give us a call and let us see if we think we can help. But, please do not delay. Medical malpractice cases take considerable time to investigate and the legal deadlines are short.
Nashville: (615) 669-3993
Murfreesboro: (615) 867-9900
Brentwood: (615) 742-4880
Toll-Free: (866) 812-8787