Medication Error Injury Attorneys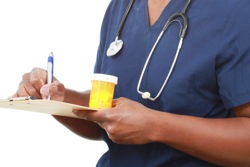 Hospital and nursing home patients rely on nurses to accurately administer the medication prescribed by the doctor, and it can mean the difference between life and death. In order to ensure patient safety, nurses are taught to follow the Five R's or Five Rights of medication administration:
Is this the RIGHT patient?
Is this the RIGHT dose?
Is this the RIGHT time for the medication to be given?
Is this the RIGHT route (i.e, tablet, via feeding tube, injection)?
Is this the RIGHT medication?
Despite these simple rules, at least 1.5 million people per year are harmed by medication errors according to the Institute of Medicine. The injuries can be serious and disabling or can even result in death.
For more than 80 years, the injury attorneys at The Law Offices of John Day, P.C. have been the voice of victims of medication errors. John Day is board-certified in Medical Malpractice by the American Board of Professional Liability Attorneys. Because of his reputation and experience in medical malpractice, he testified for the Tennessee Legislature about Tennessee's new medical malpractice laws. And, so that we can fully understand the medicine involved in your case, we have a nurse on staff full-time.

With our experienced and aggressive and team, we know how to get you justice. We have recovered more than $100 million dollars for our satisfied clients, and we would like to help you and your family too. Please contact us online or call us at 615-742-4880 or 866.812.8787 for a free, no-obligation consultation. We handle all accident cases on a contingency basis which means we only get paid if we win. If you would like to learn more about our fees and how we handle case expenses, click here.