How Much Can You Sue for in a Car Accident Case?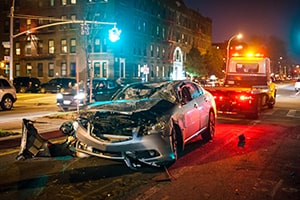 The short answer is you can sue for any amount you choose. But just like you could ask for $50,000 to mow your neighbor's yard, it does not mean you will get it. Indeed, suing for too much money can actually hurt your case because the insurance company lawyer who is defending the case will try to portray you as greedy to the judge or jury.
Many factors go into determining what a car accident (or any injury case for that matter) is worth. Below is a list of considerations:
The severity of your injuries – both physical and mental. A broken leg is entitled to more compensation than a simple sore shoulder. Likewise, on the emotional or mental side of the equation, car accidents are scary. But being frightened in a fender bender is not the same as losing your leg in a car accident and then understandably sinking into depression. One factor in judging the severity of your injury is, of course, how long it takes for you to return to your pre-accident health status. And unfortunately, with some injuries, that return to normal never happens. Individuals with those types of injuries will generally recover more money.

The amount of your medical bills. Obviously, there is a strong correlation between the severity of your injuries and the amount of your medical bills, but that is not always the case. For example, a person who loses an eye in an accident may not have much in the way of medical bills but they have suffered a horrific injury.

The amount of your lost wages, if any. A secondary component to this could be the loss of promotions or other tangible job benefits that were lost as a result of time missed from work due to injuries sustained in the accident.

The amount of any future medical care that will be needed. For example, a person who suffered significant burn injuries in a crash may require multiple surgeries over the course of many years. Experts such as doctors and life care planners can help project the cost of that medical care so that it can be recovered from the responsible party.

Pain and suffering are recoverable in personal injury cases. Again, this varies wildly depending upon the type of case. Typically, a serious burn victim will have significantly more pain and suffering than someone who only broke their arm.

Disfigurement and/or scarring, such as scars from burns, scars from surgeries, scars from the injuries, are recoverable. The location of these scars is important. For example, scars on the face are worse than a scar that is typically covered by clothing. In addition to the location, other aspects of the scarring are important. For instance, a young woman who works as a model will likely be more affected by scarring than an older man.

Loss of enjoyment of life is an element of damages that can be sued for after a car accident. If you lost your leg in the accident and can no longer run marathons, that is an element of damage to which you are entitled to recover.

Loss of consortium is an ancillary type of damage that can be recovered by the spouse of the person injured in the car accident. This element of damage needs to be specifically alleged, and it is further explained here.
The above is a list of the type of damages that can be recovered in car accident cases. Depending upon the case, some may not be applicable. But let's go back to how much you can sue for in your case.
You can sue for any amount, but in most situations you do not need to state an amount in your complaint. Instead, all that is required is to state in the ad damnum of the complaint that the amount sued for exceeds the jurisdictional amount required. For example, the current jurisdictional amount for circuit courts in Tennessee is $25,000 so you would simply indicate that you were suing for an amount in excess of $25,000. And, this is pretty standard in part due to the short statute of limitations for injury cases in Tennessee. Tennessee has one of the shortest statute of limitations in the country at just one year. Often, the full value of the case is not completely known by the time suit has to be filed because the person is still recovering from their injuries, experts have not been retained and/or finished their analysis, etc. A judge will usually require a more specific amount of money be declared as the case proceeds. Some judges will require the more specific amount shortly after the lawsuit is filed, and other judges will give the injured person more time to allege a specific amount of money sought in the lawsuit.
Of course, there is always an exception to this general rule. Under Tennessee's Product Liability Act, if you are suing your car manufacturer as part of your injury case from a car accident, the products liability statute requires you to state with specificity in your original complaint how much you are suing for in damages.
In summary, you typically can sue for any amount but, in most cases, you are not required to state the amount other than to implicate the court's jurisdiction. The amount your case is worth is a complex issue that, quite frankly, requires the skill and experience of a lawyer that routinely practices injury law and knows the likely verdicts for the jurisdiction in which the case needs to be filed. The more seriously you were injured; the more you need an attorney.
Our award-winning injury attorneys have more than 100 years of combined experience helping injury victims. If you would like a free consultation about your case, give us a call at any of our three, convenient Middle Tennessee office locations:
Nashville: (615) 669-3993
Murfreesboro: (615) 867-9900
Brentwood: (615) 742-4880
For more information on the legal process and legal fees, we recommend reading these pages: