Atrium C-Qur Surgical Mesh Lawsuits
What is Atrium C-Qur Mesh?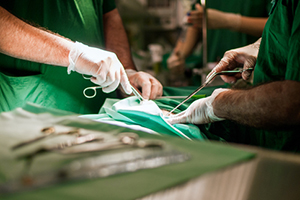 Atrium C-Qur (pronounced "secure") mesh is a surgical mesh. As part of the FDA approval process, Atrium indicated the mesh is intended for "use in hernia repair, chest wall reconstruction, traumatic or surgical wounds and other fascial surgical intervention procedures requiring reinforcement with a non-absorbable supportive material."
The mesh itself is comprised of a polypropylene mesh with an Omega 3 gel coating, which Atrium refers to as a 03FA coating. The 03FA coating is derived from fish oil.
There are a number of types of Atrium C-Qur Hernia Mesh and all of them are being included in lawsuits. The various types are as follows:
C-Qur – intended for open and laparoscopic hernia repairs
C-Qur V-Patch – intended for the repair of small hernias (umbilical, trocar site defects and epigastric)
C-Qur Tacshield – intended for medium to large open ventral hernia repairs
C-Qur FX – intended for open and laparoscopic hernia repairs
C-Qur CentriFX – intended for lateral and media hernia repairs
C-Qur Mosaic – intended for open and laparoscopic hernia repairs
C-Qur Film – intended for use as an adjunct in certain pelvic and abdominal surgeries
History of Atrium C-Qur Mesh
The FDA approved the use of Atrium C-Qur hernia mesh in March of 2006. The approval was a 510(k) approval. A 510(k) approval is for medical devices the FDA has determined to be substantially similar to a device that has already been approved and is on the market. While the 510(k) can help expedite drugs and devices to patients who need them, it also means the products do not undergo the same rigorous testing, which means problems can often go undetected until they begin harming patients.
Atrium's C-Qur got a marketing foothold when it struck a deal with one of the large medical purchasing groups in 2010. Looking to expand its market share even more, Atrium tried to take advantage of the voluntary recall of Ethicon Physiomesh that occurred at the end of May, 2016. On June 7, 2016, Atrium (by this time the company was owned by Maquet Medical Systems USA/Getinge Group) sent a letter to medical providers claiming it wanted to "minimize any impact on patients" by providing them with the C-Qur line of products. Atrium claimed the product would provide "optimal surgical performance and patient outcomes."
FDA's Policing of Atrium
Atrium's first problems with the FDA began in October of 2012 when the FDA issued a warning letter to the company. The warning letter accused the company of failing to address numerous complaints about infections associated with C-Qur products. The letter also took Atrium to task for a host of sterility complaints including 35 separate complaints of human hair being found in the supposedly sterile mesh. Finally, the FDA was concerned about Atrium modifying the temperature used during the manufacturing of the mesh.
Less than a year later, the FDA was once again policing Atrium. On August 9, 2013, the FDA issued a Class 2 Device Recall of the C-Qur Edge mesh because the coating was adhering to the liner of the packaging pouch when exposed to high humidity. In response, Atrium simply warned providers about storing the mesh in areas with prolonged high humidity.
In February of 2015, the FDA filed a lawsuit against Atrium accusing the company of selling adulterated medical devices. The FDA issued a permanent injunction against Atrium to prevent the company from manufacturing and selling mesh from its Hudson facility. The injunction cites a long list of violations by Atrium over the course of many years.
Yet despite all of Atrium's problems with the FDA and otherwise, the company's C-Qur mesh is still being used by medical providers and it is still causing serious problems for patients.
What To Do If You Have C-Qur Mesh?
Because C-Qur Mesh is surgically implanted, there is unfortunately not an easy fix for patients. If you are experiencing problems, we urge you to report the problems to the FDA. The more problems that are reported increases the likelihood that the FDA will get more aggressive in their handling of the C-Qur mesh products.
Second, if you are experiencing serious problems as a result of C-Qur mesh, you may be entitled to compensation. For instance, some patients have had to undergo a mesh-related surgery due to encapsulation, adhesions, infections, fistulas, non-healing wounds or intestinal obstructions. Another problem associated with this particular mesh is allergic reactions where the body essentially rejects the mesh, and this often manifests with severe inflammation, cellulitis or some other type of immune response.
If you would like to discuss your potential case and legal options with one of our award-winning lawyers, all you have to go is give us a call. We provide a free initial consultation. If you decide to hire us, we handle all C-Qur mesh cases on a contingency basis and advance all case expenses. To get started, give us a call at 615-742-4880 (Nashville) or 615-867-9900 (Murfreesboro) or 866.812.8787 (toll-free from anywhere else.) But do not delay. The law only allows a limited time for injury victims to pursue their rights.