Underage Drinking
Tennessee Liquor Liability Attorneys -- Underage Drinking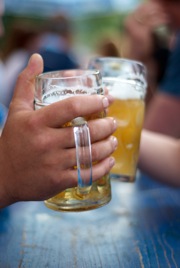 Underage drinking is an epidemic. According to Students Against Drunk Driving (SADD), roughly 2/3 of high school students have used alcohol. SADD also reports 8.3% of underage drinkers purchased the alcohol themselves. In fact, most high school kids know where they can buy beer without an ID or the clubs that look the other way when minors order a drink.
To be sure, it is a crime to sell alcohol to minors. In addition, the Tennessee's Dram Shop Act imposes civil liability on bars, restaurants and clubs who knowingly sell alcohol to minors who then cause an injury or death as a result of their alcohol consumption. The restaurants, bars and clubs who knowingly sell alcohol to minors should absolutely be held responsible if someone is injured or killed because they have chosen profits over safety and responsibility.
For more than 80 years, we have dedicated ourselves to helping injury victims including those injured as a result of underage drinking. As a result of our commitment, we have recovered more than $100 million dollars for our clients. So, it is not surprising we have received high praise from our clients as well as the following recognition:
The Law Offices of John Day, P.C. has been ranked as one of the country's best firms by U.S. News and World Report;
Business Tennessee has repeatedly named John Day as one of the State's best attorneys;
Mid-South Super Lawyers Top 100 for the past six years
"Best Personal Injury Lawyer in Nashville" by Best Lawyers (2009)
Nashville's Top 101 Lawyers by the Nashville Post
Best Lawyers recognition for Personal Injury and Products Liability Litigation (2009 -2012)
Named one of the country's best lawyers by Best Lawyers for the past 19 years.
We have also earned Super Lawyers awards and Martindale-Hubbell AV Preeminent ratings.
If you or a loved one has been injured in an accident caused by underage drinking, please contact us online or call us at 615-742-4880 or 866.812.8787 for a free, no-obligation consultation. Let us help you recover the compensation you deserve. We only get paid if we recover money for you, and we advance all case expenses so you are not out of pocket any money to pursue your underage drinking case. To learn more about fees and expenses, click here.