Bicyclists and Motorists: Rights and Responsibilities Under Tennessee Law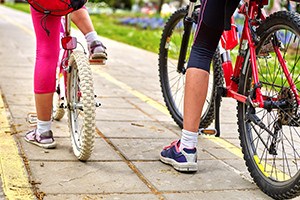 Under Tennessee law, any person riding a bicycle or an electric bicycle is granted all the rights and responsibilities applicable to a driver of a motor vehicle. Bicyclists, just like the driver of a car, must stop at a stop sign, signal turns, drive sober, keep an assured clear distance, etc. But beyond this general principle, bicyclists and motorists have other special obligations.
In Tennessee, bicyclists must:
Ride astride (not side saddle) a permanent and regular seat attached to the bike itself;

Not carry passengers unless the bicycle is a tandem or otherwise designed to carry more than one rider;

Not hold on to a vehicle or attach the bicycle to a motor vehicle on the roadway.

Operate "as close as practicable to the right-hand curb or edge of the roadway" if they are traveling slower than the rest of the roadway traffic. This does not apply if the bicyclists is overtaking or passing a slower moving vehicle, turning or preparing to turn left, or if the bicyclists is trying to avoid a collision with some hazard along the right side of the roadway.

Not operate more than 2 abreast except for on designated bike paths. Bicyclists are not permitted to ride 2 abreast if it impedes normal and reasonable movement of traffic or on a landed roadway. Under such conditions, bicyclists are to ride single file.

Equip their bikes with brakes which allow the driver to stop within 25 feet if traveling at speed of 10 miles per hour on clean, dry, level pavement;

Equip their bikes with a lamp on the front that is visible from 500 feet if operating at nighttime;

Equip the rear of their bike with either a red light or red reflector visible from 500 feet, if operating at nighttime.

Not operate a bike while carrying any package or object that prevents the driver from keeping at least one hand on the handlebars.
Note: Certified police cyclists have separate rules not covered here.
As for motorists, Tennessee law requires:
The operator of a car or truck or other motor vehicle, when overtaking or passing a bicycle in the same direction, to leave a safe distance between the vehicle and the bicycle of not less than 3 feet and to maintain that distance until safely past the bike.

Operators of motor vehicles treat a bicyclist in the same manner as a regular motor vehicle. For instance, if the bicyclist beat you to the 4-way stop, then the bicyclist gets to go first just like a car would.
If you have been involved in a bicycle accident and you have questions or would like to discuss a possible claim, give us a call. We are happy to talk to you absolutely free. If we think we can help and you decide to hire us, we will handle your bicycle accident on a contingency basis, which means we only get paid if we recover money for you. Our award-winning lawyers can be reached at 615-742-4880 (Nashville) or 615-867-9900 (Murfreesboro) or 866.812.8787 (toll-free from anywhere in the State of Tennessee or elsewhere). We have recovered millions of dollars for our satisfied clients and we would like to help you too.