Tennessee Wrongful Death Law Book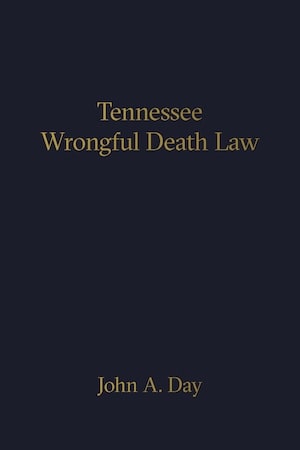 John Day has written a new book, Tennessee Wrongful Death Law. Wrongful death law is perhaps the most misunderstood part of Tennessee tort law. The law largely springs from a small number of statutes, most over a century old and written in the language of another time, but other aspects of the topic are pure creatures of common law. A true understanding of Tennessee wrongful law requires knowledge of both.
In the new book, John has gathered and analyzed all of Tennessee's law of wrongful death for you, Hundreds of appellate court decisions and statutes are reviewed and summarized to bring you a ready reference guide on this important subject.
As you can see from the Table of Contents set forth below, the book covers the entire scope of wrongful death law, from the creation of the cause of action in Tennessee in 1850 until the current day, including an important Court of Appeals opinion on the issue that was accepted for review by the Tennessee Supreme Court in September 2022.
The book addresses scores of issues, from who has the right to bring a claim, specialized limitations of actions and statutes of repose issues in death cases, the scope of damages that may be recovered, and how damages are distributed under the law. Also addressed are 19 special issues in wrongful death cases.
The e-book version is now available on BirdDogLaw.com, and it will be updated as new decisions are released and new statutes are enacted. A limited number of printed and bound books are available for sale for $199.99 (plus sales tax and S&H).
TABLE OF CONTENTS OF TENNESSEE WRONGFUL DEATH LAW
Chapter 1: The Cause of Action for Wrongful Death – Its Genesis, Breadth, and Fundamental Limitation
1.1 The Creation of the Cause of Action for Wrongful Death of Persons

1.2 Wrongful Death Actions for the Unborn

1.3 Wrongful Death of An Animal

1.4 Important Limitations on Wrongful Death Claims

1.5 General Considerations When Interpreting Wrongful Death Statutes
Chapter 2: Standing in Wrongful Death Cases – Who Has the Right to Maintain and Control Action
2.1 Introduction

2.2 Who Is Entitled to Maintain a Wrongful Death Action of Another – Generally

2.3 What Are the Powers of the Person Granted Standing to File a Wrongful Death Suit – Generally

2.4 Death of a Married Person Without Children

2.5 Exceptions to the General Rule About a Spouse's Right to Control Litigation

2.6 Death of a Married Person with a Living Child or Children

2.7 Exception to the General Rule About a Spouse's Right to Control Litigation When the Decedent is Survived by a Child or Children

2.8 Decedent's Spouse Intentionally Allows Another to Bring Action

2.9 Decedent's Spouse Can Be Determined to Have Waived the Right to Bring Action and Thus Another Will Be Permitted to Assert Action

2.10 Death of an Unmarried Adult with Living Child or Children

2.11 Death of An Unmarried Adult – Right of Illegitimate Child or Child Not SupportedBy Decedent to Bring Suit

2.12 Death of Unmarried Adult with No Children

2.13 Death of a Minor, Unmarried Child

2.14 Death of an Unmarried, Childless Adult Conceived as a Result of Rape

2.15 Wrongful Death and Same-Sex Marriages

2.16 Death When Decedent Was Not Survived by a Spouse, Children, and Has No Next of Kin

2.17 Wrongful Death Action Brought by Personal Representative
Chapter 3: Limitation of Actions and Statutes of Repose in Wrongful Death Cases
3.1 Introduction

3.2 Statute of Limitations in Wrongful Death Cases

3.3 Application of the Discovery Rule in Wrongful Death Cases

3.4 Statute of Limitations as Applied to Executors and Administrators

3.5 Application of Statutes of Repose in Wrongful Death Cases

3.6 Application of Statute of Limitations When Wrongful Death Plaintiff Suffers from A Disability
Chapter 4: Damages and Related Issues
4.1 Introduction

4.2 Damages Sustained by the Decedent – Medical Expenses

4.3 Damages Sustained by the Decedent – Physical and Mental Pain and Suffering

4.4 Damages Sustained by the Decedent – Loss of Enjoyment of Life

4.5 Damages Sustained by the Decedent – Funeral Expenses

4.6 Damages Sustained by the Decedent – Lost Wages and Loss of Earning Capacity Peremptory Challenges

4.7 Pecuniary Value of Life

4.8 Pecuniary Value of Life – Financial Loss

4.9 Pecuniary Value of Life – Loss of Human Companionship

4.10 Hedonic Damages

4.11 Taxation

4.12 Prejudgment Interest

4.13 Post-Judgment Interest

4.14 Punitive Damages

4.15 Reduction of Future Losses to Present Value

4.16 Impact of the Fault of the Decedent on the Ability to Recover Damages

4.17 Limitations on Compensatory Damages – Wrongful Death Cases Generally

4.18 Limitation on Compensatory Damages – Claims Against the State of Tennessee

4.19 Limitation on Damages – Claims Against Local Governmental Entities
Chapter 5: Distribution of Wrongful Death Proceeds
5.1 Introduction

5.2 "Free from the Claims of Creditors"

5.3 Funeral Bills

5.4 Medical Expenses

5.5 Attorneys' Fees and Expenses

5.6 Payment to the Person Serving as Plaintiff in the Action

5.7 Division of the Balance of Wrongful Death Proceeds

5.8 Is the Distribution of Monies to Beneficiaries Impacted by the Fault of a Beneficiary?

5.9 Surviving Spouse Share – Impact of "Abandonment"

5.10 What Happens When a Beneficiary of a Wrongful Death Settlement is a Minor?

5.11 Distribution of Proceeds When the Decedent is an Unmarried Minor

5.12 Death of an Adopted Child (Whether a Minor or Adult at time of Death)

5.13 Impact of Antenuptial or Postnuptial Agreement on Spouse's Ability to Receive Wrongful Death Proceeds

5.14 Impact of a Will on Distribution of Wrongful Death Proceeds

5.15 Impact on Distribution of Proceeds Because of the Inability to Prove Wrongful Death
Chapter 6: Special Issues Arising in Wrongful Death Cases
6.1 Impact of Death of the Defendant on the Ability to Maintain an Action for Wrongful Death

6.2 Death of the Wrongful Death Plaintiff on the Ability to Maintain a Wrongful Death Action

6.3 Death of Personal Injury Plaintiff While Case Is Pending

6.4 Counterclaim Asserted and Damages Sought Against Decedent

6.5 Taxation of Wrongful Death Recoveries

6.6 Uniform Simultaneous Death Act

6.7 Number of Peremptory Challenges for Plaintiff in Wrongful Death Cases

6.8 Responsibilities of the Wrongful Death Plaintiff

6.9 Effect of Exculpatory Agreement Signed by Parents of Deceased Minor

6.10 Payment of Attorneys' Fees and Expenses in Wrongful Death Litigation (Common Fund Doctrine)

6.11 Adoption and Wrongful Death

6.12 Termination of Parental Rights and Wrongful Death

6.13 Conflict of Laws Issues in Wrongful Death Litigation

6.14 Death of Person Engaged in Criminal Activity

6.15 Dispute Between Beneficiaries over Settlement Terms

6.16 Waiver of Right to Receive Wrongful Death Proceeds (and Tax Impact of Doing So)

6.17 Anticipatory Wrongful Death Lawsuit

6.18 Impact of Court-Ordered Child Support Paid by DUI Defendants

6.19 Arbitration of Wrongful Death Cases
Appendix
Selected Statutes