Safe Ride Home Campaign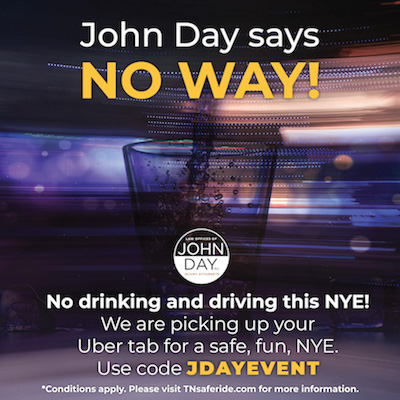 New Year's Eve is a night of fun and celebration, and many of us like to ring in the new year by having a few drinks with our family and friends. While we all know that drinking can affect our perception and reflexes which, in turn, makes driving risky, we sometimes forget that alcohol also affects our judgement. Alcohol can make us lie to ourselves by making us believe we are alright to drive because we are just buzzed.
According to the Tennessee Department of Safety and Homeland Security, there were more than 4,500 known alcohol-related traffic crashes in 2017, and The National Highway Traffic Safety Administration reports that two to three times more people die in alcohol-related crashes during the holidays than any other time of year.
DUI accidents injure and kill people every day in our country. Living with the knowledge that your poor judgment resulted in someone else being seriously injured or killed would be very hard. Of course, that would not be your only punishment. In addition to being responsible for monetary damages for the harm you caused, a number of criminal penalites could apply including vehicular assault, child endangerment (if you are driving under the influence with a child under 18 in your car), vehicular homicide, etc. The jail time for these offenses runs anywhere from 2-30 years. Even if you are "only" convicted of simple DUI, that conviction will cost you on average $5,000 for towing, bail, attorney's fees, insurance increases, court costs, school and reinstatement fees.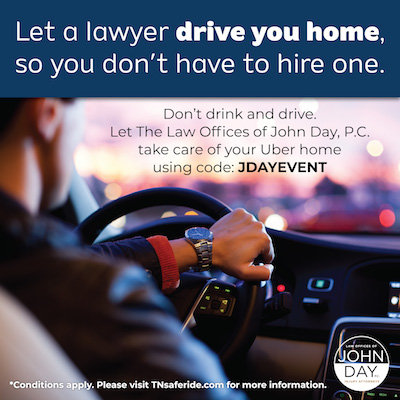 We are proud to announce that the Law Offices of John Day, P.C. will be offering safe rides home, for the second year in a row, in Rutherford County. Everyday, 28 people die as a result of drinking and driving and we would like to do our part to ensure the safety of our community, which is why we have decided to sponsor Uber rides home the night of New Year's Eve.
Using code: JDAYEVENT, on the Uber App, New Year's Eve party-goers will have the opportunity to receive a free Uber ride home (up to $25) within a 5 mile radius of Murfreesboro, TN between 11pm - 3am. If you are going to drink, be smart and plan a safe ride home. Ride codes are on a first-come, first-serve basis, the ride limit is $25 and the total spend will be capped at $6,250.
Our award-winning lawyers and dedicated staff have seen first-hand the devastating toll that drunk driving accidents can have on individuals and their families. So, we want to encourage everyone to plan a safe ride home if they drink on New Year's Eve. Check our firm's web site at TNSafeRide.com often to learn more about future Safe Ride Home campaigns!
And, of course, if you or a loved one is injured by a drunk driver, we are here to help. Give us a call at 615-742-4880 (Nashville) or 615-867-9900 (Murfreesboro) or 866-812-8787 (toll-free). Just like the ride home on New Year's Eve is free, so is our initial consultation. We handle all accident cases on a contingency basis, so we only get paid if we recover money for you and your family.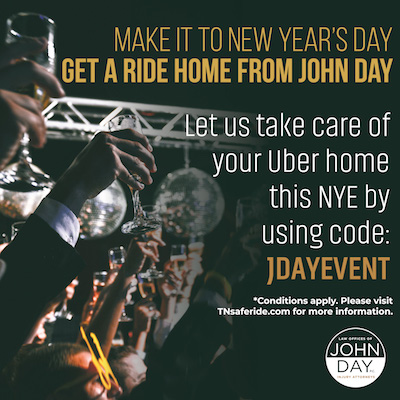 Thank You, and Happy Holidays from The Law Offices of John Day, P.C.