What Insurance Covers a Bicycle Accident?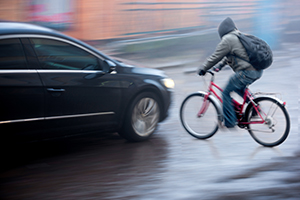 Bicycle accidents are often very serious. For those that survive a serious bike accident and for the families who's loved one has been killed in a bike accident, they almost always have questions about what, if any, insurance applies. For example, we are often asked: what type of insurance covers a bike accident? Does uninsured motorist coverage apply to bicycle accident? Does homeowner's insurance cover a bike accident? So, let's go over the various types of insurance that can apply to a bicycle accident.
Car Insurance
If you are driving and hit and injure a bicyclist, your auto insurance should cover the damages that you caused, up to your liability policy limits. To learn what amount of insurance coverage you have for such a tragedy, look at the "declarations page" that comes with your car or truck insurance policy. The amount of insurance coverage you have is under the "Liability" section of your declarations page.
Importantly, if you are riding a bicycle and are hit by the driver of a car or truck, their policy may cover your damages AND your own auto or truck policy may cover your injuries if you have uninsured or underinsured motorist coverage and the at-fault person does not have insurance or does not have enough to adequately compensate you for your damages. In addition, the at-fault person may have medical payments coverage on their auto policy which could help pay your medical bills.
To learn what amount of uninsured / underinsured motorist coverage you have that protects you if you are injured by a negligent driver, look at the declarations page of your car or truck insurance policy. You will learn the amount of coverage under "uninsured/underinsured motorist" portion of your policy.
Homeowner's Insurance
If you are riding your bike and you cause another cyclist to wreck or cause some other type of wreck or damage, your homeowner's or renter's insurance policy may cover the damages caused by you while riding your bicycle. Likewise, if a person, another bicyclist, or dog cause you to wreck your bike, their homeowner's or renter's insurance may cover your injuries. For example, if a pedestrian wanders into the bike lane and causes a wreck, that may be covered under a homeowner's or renter's insurance policy. If a dog chases your bike and causes you to wreck, that may be covered as well.
Medical Insurance
If you have medical insurance and you are injured in a bicycle accident, your medical insurance should apply subject to co-pays and deductibles. If the bicycle accident turns out to the fault of the driver of a car or truck and the at-fault person's insurance pays you a settlement for your injuries, your medical insurance will likely be entitled to seek reimbursement for the amounts they paid for your medical treatment related to the bike accident. In legal terms, this is subrogation. For more information on how subrogation works, we encourage you to read our FAQ page on that subject.
Bicycle Insurance
Some bicyclists choose to purchase bicycle insurance. This insurance can cover the cost of your bike if it is stolen or if it is damaged or destroyed in an accident. This can be important as some bikes now cost $15,000.00. Bicycle insurance can also provide protection for medical bills and liability protection for any harm you cause on your bike.
Let us conclude by saying insurance policies are a contract. You agree to pay a premium and the insurance company agrees to pay for certain accidents. Under what circumstances the insurance company must pay and how much they must pay are controlled by what coverage was purchased by you or the person who caused the harm (liability, uninsured motorist, etc.) and the language of the insurance policy.
Therefore, following a serious accident, it is incredibly important to review the terms of your policy with an experienced lawyer. Depending upon the type of accident and the language of the insurance policy, you may be entitled to a payout from an insurance company. We offer a free initial consultation so that you can discuss your case with our experienced team and we can help you determine if any insurance applies to your accident.
Our award-winning lawyers handle all bicycle accidents on a contingency basis so we only get paid if we recover money for you, and we advance all case expenses so you are never have to pay a penny out-of-pocket to pursue your legal rights. To get started, give us a call:
Nashville: 615-669-3993
Murfreesboro: 615-867-9900
Brentwood: 615-742-4880
Toll-Free: 866-812-8787 (we represent clients in all areas of Tennessee)