Trucking Regulations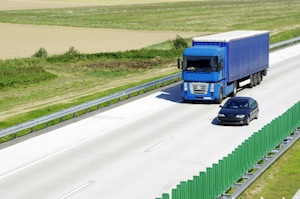 Some people call them semis. Others call them tractor-trailers or big rigs, and some people just call them trucks. While we may not all agree on what we call them, we can all agree that big trucks are extremely dangerous if they are not operated appropriately. For this reason, the Federal Motor Carrier Safety Administration is responsible for overseeing the trucking industry as well as buses and motor coaches, etc. The Federal Motor Carrier Safety Administration has a big job. They are responsible for overseeing 500,000 trucking companies, 4,000 interstate bus companies and four million CDL holders.

To accomplish this task, the agency has published regulations that cover all trucks weighing more than 10,000 lbs, all buses that transport more than 16 or more passengers, including the driver, without compensation, all buses that transport more than 9 passengers, including the driver, for compensation and any truck that is hauling hazardous materials. The regulations that these types of vehicles and their drivers must follow cover a wide-range of topics including hours of service requirements, drug and alcohol testing, weight restrictions, the keeping of log books, qualifications of drivers and the inspection, repair and maintenance of vehicles. Federal and state law enforcement agencies work hard to enforce the regulations.

Despite heavy regulation, the trucking industry is unfortunately still plagued with unfit drivers, corner-cutting companies and defective equipment. If you or a loved one has been involved in an accident with a tractor-trailer, your case is much stronger if there was a violation of the Federal Motor Carrier Safety Regulations and that violation played a role in the accident. In fact, depending upon the extent of the violations, you may be entitled to punitive damages as well as compensatory damages.
How do you know if a Federal Motor Carrier Safety Regulation violation played a role in your accident? You can call our office and speak with one of our award-winning truck accident attorneys in a free, no-obligation consultation. We are know the ins and outs of the regulations and we know how to look for and prove a violation. We handle all trucking accident cases on a contingency basis so we only get paid if we recover money for you. We also advance all case expenses so it will cost you nothing out-of-pocket to hire the appropriate experts that may be necessary to prove your case. We represent truck accident clients across the State of Tennessee. We have recovered millions and millions of dollars for our satisfied clients and we would be privileged to help you too.

Before you hire any injury lawyer, including us, we encourage you to familiarize yourself with the important issues so you know what questions to ask to help you select the right lawyer for you. We have FAQ pages to help injury victims feel more comfortable with hiring a lawyer, meeting with a lawyer and more. Below are some of our most popular links and more can be found on our FAQ page.

How to Select an Injury Lawyer

How to Prepare for a Meeting With an Injury Lawyer

How Are Settlements Calculated?

What Are the Deadlines for Filing a Claim?

We hope you find the FAQ pages and Legal Guides helpful. When you ready to get started, contact us online or call us anytime:

Nashville: 615-669-3993
Murfreesboro: 615-867-9900
Brentwood: 615-742-4880
Toll-Free: 866-812-8787

Other Truck Accident Information: