Truck Crash Statistics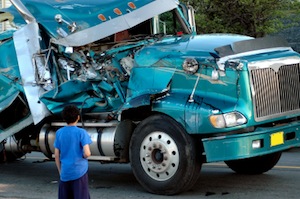 Each year, there are roughly 4,500 fatal truck accidents and approximately 101,000 injury crashes per year. Whether you call them a semi, big rig, tractor-trailer, box truck, etc. the costs of these truck crashes is staggering. Economically, it costs tens of billions of dollar per year. To the families who lost a loved one in a truck accident, the cost is unfathomable. To the victims who were injured in truck accidents, the cost can be life-changing.

In terms of where and when these tractor-trailer and medium-size truck (gross weight exceeding 10,000 lbs) accidents are occurring, 54% of truck accidents occur in rural areas. The second most dangerous area is the interstate. While there tend to be more trucks on the interstate, access is limited to on and off ramps, the traffic is moving in the same direction and generally at the same speed. In a non-interstate setting, truckers are faced with intersections, red-lights, traffic moving at different speeds and other factors such as turning vehicles, bicyclists, etc.

Not surprisingly, most truck accidents happen on weekdays. While truckers definitely work weekends, more trucks are on the roads during the weekdays including retail delivery trucks, garbage trucks, refrigerated trucks etc. According to the Federal Motor Carrier Safety Administration, the most dangerous time of day for truck accidents is from 6:00 p.m. to 6:00 a.m. Limited visibility and drowsiness are contributing factors during this time.

The lack of proper maintenance on trucks causes a large number of truck accidents. For example, defects in truck tires (lack of tread, underinflated tires, overinflated tires, etc.) account for one-third of all truck accidents.
Following a truck accident, time is of the essence. Trucking companies and their insurance companies are used to dealing with accidents. Sadly, for them, it is a part of doing business. Depending upon the severity of the wreck, some companies will send their in-house investigators and lawyers to the scene on the day of the wreck or within days of its occurrence. They will be photographing the scene and the vehicles. They will be interviewing witnesses and talking to law enforcement. In short, they will be actively and aggressively working on their defense. You need an experienced attorney actively and aggressively working for you.

For more than 30 years, the award-winning lawyers at The Law Offices of John Day have successfully represented those injured and killed in truck accidents. We understand the physical, emotional and financial burdens faced by those involved in truck accidents. We know truck accident victims and their families have questions and we are here to answer them. We offer a free, no-obligation consultation on your case so that you can understand both your legal rights and your legal options. If we think we can help and you decide to hire us, we will represent you on a contingency basis, which means we only get paid if we win. And unlike some injury lawyers who ask you to take out a litigation loan to finance the cost of your case or who charge interest on any expenses they advance, we advance interest-free all of the expenses that must be incurred to pursue your case. You are never out-of-pocket to pursue your legal rights with The Law Offices of John Day.

If you have been injured by a commercial motor vehicle (truck, bus, semi-truck, tractor-trailer), then contact us today and let us help you get the compensation you and your family deserve. Contact us online or call us anytime. We handle truck accidents across the State of Tennessee.

Nashville: 615-669-3993
Murfreesboro: 615-867-9900
Brentwood: 615-742-4880

Toll-Free: 866-812-8787

Other Truck Accident Information: