Tennessee Law of Civil Trial - Second Edition Now Available!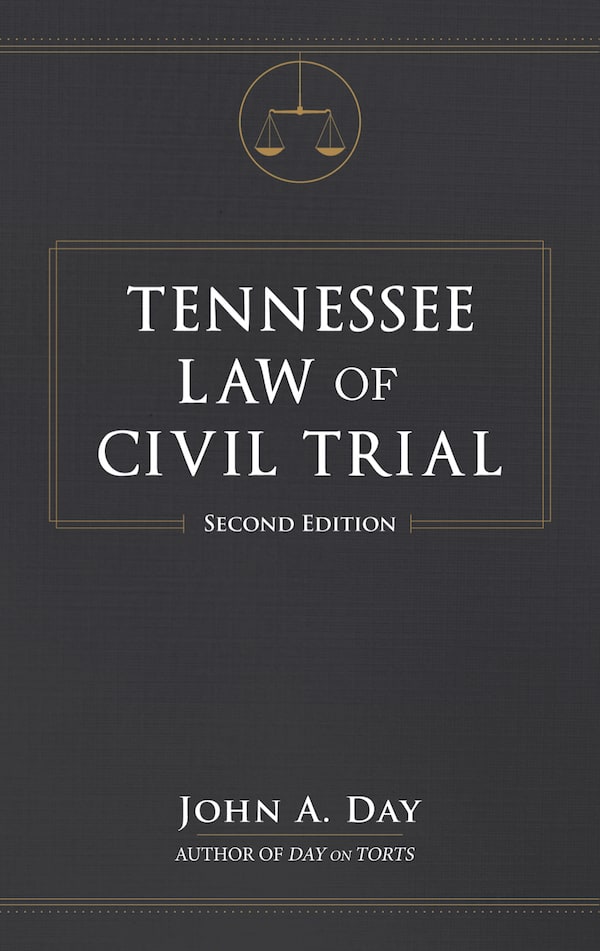 Let's face it: getting ready for trial is hard. So much work needs to be done. Exhibit binders need to be prepared, witnesses need to be prepped, motions in limine need to be drafted, subpoenas need to be issued, jury instructions need to be submitted, trial briefs need to be written, voir dire questions need to be developed, opening statements need to be crafted, direct and cross examinations need to be prepared, and so forth and so on. And, of course, all of this work needs to be done while still handling all of the normal day to day legal work such as client meetings, motion hearings, phone calls with opposing counsel, the endless onslaught of emails, etc. By the time you get to trial, most lawyers are tired and stressed.
Then, trial starts and you are working grueling hours and trying to address last minutes issues that arise such as juror questions, both during the presentation of the evidence and during jury deliberations. (As we like to say at The Law Offices of John Day: there is a reason they call it a trial.) Finally, as any trial lawyer knows, the work is not over after the jury returns its verdict. Any number of motions may be filed: a motion for JNOV, motion for new trial, motion for additur, etc. Needless to say, if you can streamline any of part of this process or quickly respond to an unexpected issue, you want to do it.
The book was first published in 2014. The Second Edition is available now and includes updated case law and rule citations. Two chapters have been substantially revised because of a new Tennessee Supreme Court opinion that materially changed the law.
We hope this book will help you be prepared and ease some trial stress. It can be used as you prepare for trial or it can be used in the courtroom to quickly and easily address any issues that develop or it can be used during the post-trial motion phase. This 500+ page book provides you with a quick and thorough explanation of the law of trial from pretrial conferences and voir dire to jury instructions and motions for new trial. In addition to providing you with the law you will need, the book also includes 75 of John's personal trial preparation tips, forms and checklists.
Sample Chapter
Click to View Chapter 1: Scheduling Orders
Buy the Book $119.95 + S&H
Multiple Copy Discount
A substantial discount is available for those who want to purchase five (5) or more copies of Tennessee Law of Civil Trial - Second Edition at one time. Contact Carey Turner at 615.742.4880 to make arrangements for purchase and shipping purchases of five (5) copies or more.
Table of Contents
Chapter 1: Scheduling Orders
Chapter 2: Final Pretrial Conferences
Chapter 3: Motions in Limine
Chapter 4: Jury Selection
Chapter 5: The Rule
Chapter 6: Opening Statements and Closing Arguments
Chapter 7: Examination of Witnesses
Chapter 8: Use of Depositions at Trial
Chapter 9: Opinion and Expert Testimony
Chapter 10: Mistrials
Chapter 11: Motions for Directed Verdict
Chapter 12: Findings of Fact
Chapter 13: Jury Instructions
Chapter 14: Juror Questions
Chapter 15: Verdict Forms
Chapter 16: Discretionary Costs
Chapter 17: Motions for a New Trial and to Alter or Amend Judgment
Chapter 18: Remittitur
Chapter 19: Additur
Chapter 20: Motions for Judgment Notwithstanding the Verdict
Chapter 21: Preparing to Win at Trial
Some of the useful forms included in the book are:
Affidavits in support of a motion for discretionary costs
Sample scheduling orders for both simple and complex cases
Trial timelines
Take to trial checklist
Final trial preparation checklist
And many more.