Stryker Hip Replacements
Hip Replacement Recall -- Rejuvenate and ABG II Hip Implants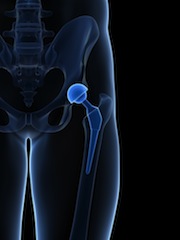 Stryker is a medical device manufacturer with 8.7 billion in annual sales globally. They manufacture medical devices including artificial joints, bone cement, artificial vertebral discs, spinal screws and rods, and other biological products.
In February of 2009, Stryker released two artificial hips known as the Rejuvenate and ABG II modular-neck hip stems. These two Stryker implants are metal-on-metal (MoM) devices and are different from other metal-on-metal hip implants. Unlike the more traditional ball and socket system, the Stryker Rejuvenate and ABG II hip implants allow a surgeon to personalize the fit of the implant to correct certain aspects of a patient's anatomy.
On July 6, 2012, Stryker recalled the Rejuvenate and ABG II hip implants. Data has shown these devices are prone to fretting and corrosion at the modular-neck junction. This fretting and corrosion can release particles of toxic metal debris into the patient's bloodstream. When this happens, the patient can experience adverse local tissue reactions (ALTR) or adverse reaction of metal debris (ARMD), pain and swelling. In addition to these local complications, according to an FDA notice, case reports have also linked metal toxicity and damage to the lymph nodes, spleen, liver, kidneys, cardiac systems, nervous system and malignancy. In some cases, the device fails completely which can cause the bone around the implant to fracture.
If you or a loved one has undergone a total hip replacement with a Stryker Rejuvenate or ABG II artificial hip, contact The Law Offices of John Day, P.C. for a free, no-obligation consultation. One of our award-winning lawyers will sit down with you, review your Stryker hip replacement case, answer your questions and explain your rights in clear terms.
Contact us online or call us at 615-742-4880 or toll- free at 866.812.8787. We have recovered more than $100 million for our satisfied clients and we would like to help you and your family too. But do not delay, the law imposes strict deadlines for you to act or forever lose your rights.
More Stryker Hip Replacements Information