Stryker Hip Replacement Recall -- What are the Symptoms of a Failed Hip Replacement?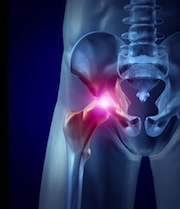 According to the FDA, symptoms of a failed metal-on-metal hip implant may include hip pain, groin pain, numbness, changes in the patient's ability to walk and swelling. Of course, symptoms of toxicity in the blood stream may not be obvious to the patient. To be safe, any unexplained changes in your health should be evaluated by your physician and be sure to remind the physician that you have a metal-on-metal hip implant.
The FDA has issued a warning that certain types of patients have an increased risk of device wear or adverse local tissue reaction (ALTR) and should follow-up more frequently with their surgeon or health care provider:
Patients with suspected metal sensitivity (for example, nickel, cobalt, chromium)
Patients with high levels of physical activity
Patients who are morbidly overweight
Patients with compromised or suppressed immune systems
Patients who have undergone hip replacement on both sides (bilateral)
Patients who are receiving large doses of corticosteroids
Female patients
Patients with resurfacing systems with small femoral heads (less or equal to 44 mm)
If you have additional questions about your Stryker hip replacement, one of our award-winning attorneys will be happy to sit down with you, discuss your case with you, answer your questions and explain your options in clear terms. But do not delay, the law sets strict deadlines which apply to your case.
To schedule a free, no-obligation appointment with one of our experienced attorneys, contact us online or call us anytime at 615-742-4880 or toll-free at 866.812.8787. We have recovered more than $100 million for our satisfied clients and we would like to help you and your family with your Stryker hip replacement case.
More Stryker Hip Replacements Information