Stryker Hip Replacement Recall -- Metal-on-Metal Hip Failure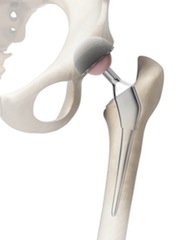 Metal on Metal (MoM) technology has been available for decades and has been marketed as a longer-lasting alternative to ceramic and plastic models. But recently metal-on-metal implants have become the subject of increased concern and monitoring. Data reveals the devices fail at a higher rate than other implants. As a result, even though many types of metal hips remain on the market, data demonstrates surgeons are starting to be reluctant to use them. In 2008, 40% of all hip implants in the United States were metal-on-metal. By 2010, the percentage was down to 27%. The current percentage is estimated to be roughly 10%.
Surgeons are not alone in their reservations about metal-on-metal hip implants. Significantly, in 2012, the Orthopaedic and Rehabilitation Devices Panel of the U.S. Food and Drug Administration (FDA), the panel charged with monitoring metal-on-metal hip replacements, said there are few reasons to continue using metal-on-metal hip implants because of the growing evidence the devices deteriorate early exposing patients to dangerous metallic particles. Currently, the FDA is not ready to pull all metal-on-metal implants from the market, but the Chair of the Orthopaedic and Rehabilitation Devices Panel does not use metal-on-metal hips because he sees "no reason to do so."
If you have undergone a hip replacement with a Stryker Rejuvenate or ABG II hip implant, one of our award-winning lawyers can review your case, answer your questions and provide you with a clear understanding of your rights and options. To schedule a free, no-obligation meeting with one of our experienced trial lawyers, contact us online or call us at 615-742-4880 or toll-free at 866.812.8787. If you fail to act within a strict deadline, your legal rights can be lost forever.
More Stryker Hip Replacements Information