Stryker Hip Replacement Recall -- How Do I Know What Type of Hip Implant I Have?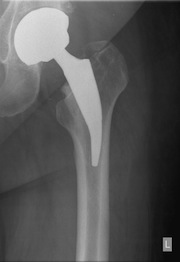 If you have undergone a total hip replacement but you are unsure of the type of implant you have, contact your surgeon who can provide that information. Importantly, not all Stryker hip implants have been recalled. The monolithic systems are unaffected by the recall. Be sure to specifically ask your surgeon if you have a Stryker Rejuvenate or ABG II hip implant. Alternatively, your medical records (in particular, the operative note and product identification sheet - you need both) should contain this information.
If you or a loved one has been the recipient of a Stryker Rejuvenate or ABG II hip implant, we recommend you contact one of our award-winning lawyers to discuss your options. Even if you are not currently experiencing any problems, damage may still be occurring. According to the FDA, there are case reports of metal debris leeching into the bloodstream causing damage to the lymph nodes, spleen, liver and kidneys.
We handle all Stryker hip replacement cases on a contingency basis which means we only get paid if we recover damages for you. And unlike some lawyers, we advance all case expenses so you never have to incur expensive litigation loans or pay anything out of pocket to pursue your case. It is important for you to be proactive in pursuing your legal rights as the law sets strict deadlines by which you must act or forever lose them.
Contact us online or call us anytime at 615-742-4880 or toll-free at 866.812.8787 for a free, no-obligation consultation. Our experienced attorneys have recovered well over $100 million for our satisfied clients and we would like to help you and your family too.
More Stryker Hip Replacements Information