Stroke Caused by Car Accident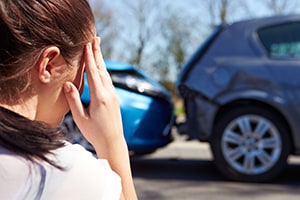 Some folks might be surprised to learn there is a correlation between a car accident and a stroke. While it is not a common occurrence, it can happen. Here is why: a stroke occurs when there is a disturbance in the blood supply to the brain. The disturbance is typically associated with either abnormal bleeding or a clot. This is the reason why strokes are commonly identified as either hemorrhagic (bleeding) or ischemic (when a clot blocks the flow of blood to the brain). If you are involved in a car accident and sustain a head trauma, this head trauma could lead to a stroke.
So how great is the risk? One study by the American Heart Association found that 48 young adults out of 100,000, who had a neck or head injury, had a stroke. Just as alarming, 11 children out of 100,000 had a stroke following a neck or head injury. In another study, for patients who developed an ischemic stroke following a traumatic brain injury, the most common cause of the brain injury was a motor vehicle crash (34%) followed by falls (28%). The average duration between the brain injury and the diagnosis of a stroke was 25 days with 125 days being the longest.
Your risk of stroke following an accident is also influenced by your risk factors for stroke. For example, a risk of stroke is greater in people with high blood pressure because high blood pressure damages and weakens blood vessels making them more susceptible to tears and clots. Smoking, diabetes, age, obesity, heart disease such as atrial fibrillation, family history and more can impact your risk of stroke.
If you have been involved in a car accident that resulted in any type of traumatic injury to the neck or head, you and your family should be vigilant for signs of a stroke which include:
Sudden numbness or weakness of the face, arm or leg particularly if it is experienced on only one side.
Difficulty seeing
Dizziness or a general loss of coordination and balance
A severe and sudden headache.
Trouble speaking or confusion
Quick and decisive medical intervention is critical upon noticing signs of a stroke. In addition to death, strokes can cause debilitating injuries that require life-long care.
If you have been involved in an accident and believe a subsequent stroke may be related, it is important that you seek advice from an experienced attorney who can determine whether the stroke can legally be blamed on the accident. At the Law Offices of John Day, for more than 100 years, our award-winning lawyers have helped injury victims recover the compensation they deserve. We would be privileged to help you and your family too. To get started, give us a call for a free consultation. We will discuss the facts of your case with you and advise you of your legal rights without any obligation. If we think you have a case and you decide to hire us, we handle all accident cases on a contingency basis, so we only get paid if we win. To help you with this process, we encourage you to read:
How to Select an Injury Attorney
How to Prepare for a Meeting with an Injury Attorney
Understanding Attorney Fees and Expenses in Injury Cases
Then, give us a call at one of our three Middle Tennessee locations:

Nashville: 615-669-3993
Murfreesboro: 615-867-9900
Brentwood: 615-742-4880
Toll-Free: 866-812-8787