Placement and Removal of IVC filters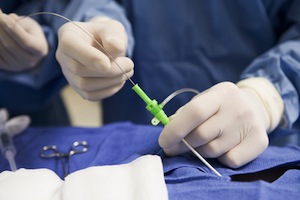 Placement of an IVC filter is performed by an interventional radiologist, vascular surgeon or interventional cardiologist. A catheter is used to position the filter in the vein using x-ray guidance. Removal of the filter again requires the use of x-ray guidance and a catheter with a snare on the end of it. The snare is used to snag the hook at the end of the IVC filter.
While removal of the IVC filter is the preferred course for patients who are no longer at risk of EVT, it is not always possible. Removal of the IVC filter is unlikely if it has adhered to the wall of the vein or if it has fractured, tilted or migrated. If the IVC filter is not removed, the patient is at increased risk for a number of complications including perforation of the venal wall, perforation of the heart or lungs, internal bleeding, perforation of the small intestine, stomach, duodenum, a blood clot at the point of insertion, etc.
If you would like to discuss your IVC filter case with one of our award-winning attorneys, please give us a call at 615-742-4880 or toll-free at 866.812.8787 for a free and without obligation consultation. We handle all IVC filter cases on a contingency basis, so we only get paid if we win. But, please do not delay. The law only allows you a limited time to pursue your legal rights.