Murfreesboro, Tennessee Motorcycle Accident Attorneys
Murfreesboro and Rutherford County Motorcycle Accident Attorneys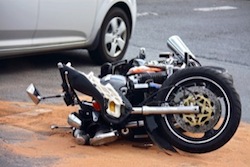 In 2019, Murfreesboro/Rutherford County had 17,995 Class M licenses (motorcycle licenses, and 122 motorcycle crashes. The motorcycle crash rate for Rutherford County was 31st out of 95 counties in the State. This is actually an improvment for Rutherford County. In 2017, the county ranked 17th in motorcycle crashes. In 2018, Rutherford County's motorcycle crash rate was 20th.

At The Law Offices of John Day, P.C. our award-winning lawyers have more than 100 years of combined experience in helping the victims of motorcycle accidents. As former motorcycle riders ourselves (we still feel the itch when the weather turns warm), we understand the vulnerability of motorcycle riders. There is no airbag. There is no seat belt. There is no frame and occupant protection system to help manage the energy of a crash. So if another driver is careless, the results can be devastating. Brain injuries, spinal cord injuries and broken bones are just some of the injuries that can result from a motorcycle accident.

Not surprisingly, the costs associated with these types of injuries can be astronomical. In fact, the National Highway Traffic Safety Administration has published the results of two studies which show the medical costs associated with motorcycle crashes is more than 10 times the cost of a car accident. Of course, this figure does not account for fatalities, pain and suffering, disfigurement, etc. And it certainly does not account for all the intangible losses for a life has been forever changed.
Free Consultation and No Fee Unless We Win
If you would like to discuss a motorcycle accident involving you or a loved one, call our Murfreesboro office at 615-867-9900 and we will be happy to discuss your case with you and explain your legal rights in a free, no-obligation consultation. If we think we can help you and you would like to hire us, we will handle your motorcycle accident case on a contingency basis, which means we only get paid if we win. And while litigation can be expensive, we will advance all case expenses for you so that you do not have to pay any money out of pocket to pursue your rights. If you would like to learn more about our fees and how we handle case expenses, click here.
Educate Yourself on Our Website
We have written a number of pages about various issues related to motorcycle accidents. We have also provided detailed explanations about compensatory damages and punitive damages. In the event you have lost a loved one in a motorcycle accident, we encourage you to read our pages about wrongful death and who has the right to file suit, who has the right to the proceeds of a lawsuit and more. We also want you to have a good general understanding of what to expect from the litigation process so we wrote a page called Anatomy of a Lawsuit. Of course, this general information is not a substitute for hiring an experienced lawyer but it can help answer some of your questions and help you decide which lawyer is right for you.
Why You Should Hire Us
Of course, we can point to our decades of experience, our awards, our client testimonials, the books we have written and all sorts of other great things to answer this question. And while all those things are unquestionably important, we also think trust and a good relationship are just as critical. We know you are trusting us with your future and we take that very seriously. We are going to be working together during a very difficult and stressful time in your life and it is important to have good communication and decisive action. So that we can be available to you and efficiently handle your case, we intentionally keep our file count low and are selective about the cases we accept.
Act Quickly To Protect Your Rights
The law only allows you a limited time to pursue your rights before they are lost forever. So we urge you to contact us today. For a free evaluation of your case, you can call our Murfreesboro office any time at 615-867-9900 or toll free at 866.812.8787 or simply fill out this form and we will call you. As always, we are happy to come to you if you can not come to our offices for any reason.