Murfreesboro, Tennessee Dog Bite Lawyers
Murfreesboro and Rutherford County Dog Bite Lawyers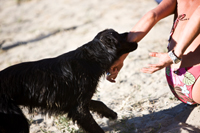 Do you need a lawyer's advice on a Murfreesboro dog bite case but are worried about how to pay for it? Do you need to hire a lawyer, but do not know how to find the right one? Do you need help following a dog attack but don't know how or where to get started? At The Law Offices of John Day, P.C. we are here to help you with these questions and your case.
How Will I Pay For a Lawyer For My Dog Bite Case?
With convenient offices in both Murfreesboro, Nashville and Brentwood, our award-winning attorneys offer free, no obligation consultations for dog attack cases. This means we will review your case, answer your questions and explain your rights -- all for free. If we think we can help you and your family with your Murfreesboro dog bite or dog attack case, we will handle your case on a contingency basis, which means we only get paid if we win. Unlike some lawyers, we advance all case expenses for you so you do not have to pay any money out of your own pocket to pursue your dog bite or dog attack case. For more information on our fees and how we handle case expenses, click here.
How Do I Find The Right Lawyer For My Dog Bite Case?
In any profession, from mechanics to doctors, there are the good, the bad and the ugly. The legal profession is no exception to this rule. Because we want injury victims to hire a good lawyer (even if it is not us), we have a developed a checklist of questions you should ask when shopping around for a lawyer. We invite you to review the checklist and then spend some time on this site reviewing our videos, our written and video testimonials, our awards, the bios of our lawyers, etc. so you can get a feel for the type of lawyers we are before entrusting us with your case.
The Basics of Dog Bite Law in Tennessee
Our website has several pages on dog bite law in Tennessee and we encourage you to read them all.
Tennessee's Dog Bite Law And Proving Your Case
Damages Recoverable From A Dog Bite Case
Can I File Suit If I Am Still Treating For My Injuries?
Of course, these pages are not a substitute for the advice of an experienced dog bite attorney, so we urge you to give us a call and let us talk through your case with you. In Murfreesboro, we can be reached any time at
Law Offices of John Day, P.C.
1639 Medical Center Pkwy #105
Murfreesboro, TN 37129
Phone 615-867-9900 or toll-free at 866-812-8787. Or, if you prefer, you can simply fill out this form and we will contact you. But, do not delay. The law only allows you a limited time to pursue your rights before they are lost forever.