Murfreesboro, Tennessee Bicycle Accident Lawyers
Murfreesboro and Rutherford County Bicycle Accident Lawyers
At The Law Offices of John Day, P.C. our award-winning attorneys in Murfreesboro, Nashville and Brentwood have handled many types of bike accident cases. Below are some of the more common types of cases and some legal issues presented by each one.
Bike Accidents Involving Motor Vehicles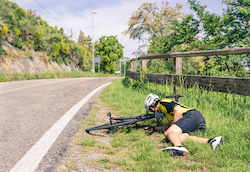 In Murfreesboro and all of Rutherford County, motorists are supposed to share the road with bicycle riders, but that does not always happen. Sometimes, the bicyclist is harassed by the motorist who may yell obscenities, throw objects or make aggressive maneuvers toward the bicyclist. In other cases, the motorist is just negligent in the operation of their vehicle. This can happen because the motorist is texting and driving, speeding or interacting with a navigational system, etc. In Rutherford County alone, from 2009-2019, there have been 2 fatal bicycle accidents and 259 bicycle accidents involving injuries according to the TN Department of Safety and Homeland Security.

But three types of bicycle accidents are so common they have their own name: the right hook, the left cross and buzzing. In the right hook, the motorist passes the bicyclist on the left but then slows down to make a right hand and turns into the bike's path. In the left cross, while attempting to make a left hand turn, the motorist thinks there is a gap in traffic but fails to notice the bike rider and turns in front of the bicyclist. Buzzing is when a driver tries to intimidate a bicyclist by coming extremely close. This often results in the bicyclist losing control.

To learn more about bicycle accidents involving motor vehicles, click here.
Bike Accidents Caused by Defective Equipment
Bicyclists rely on the safety of their equipment. Tires, helmets, frames are all critically important to a safe ride. But sometimes, the equipment is defective and a product liability claim may be appropriate. To learn more about Tennessee law on defective products, click here.
Bike Accidents Caused by Dogs or Other Animals
It is a fact: dogs like to chase things. And bicycle riders are not immune. A dog running loose, even if is not aggressive, can cause a bicyclist to lose control and crash. Of course, a dog that is attacking presents another type of danger. To learn more about Tennessee law on the liability of dog owners, click here.
Bike Accidents Caused By Road Conditions
Poor lane markings in construction areas, inadequate drainage causing standing water, rocks or gravel and potholes are just some of the road conditions that can lead to a bicycle accident. The responsible party may be a private land owner or a governmental entity. Either way, our experienced bike accident lawyers can tell you whether you have a case and help you seek the damages you deserve for your injuries.
Free Consultation & No Fee Unless We Win
We offer a free consultation. Simply call us and we will review your case, answer your questions and advise you of your rights. If we think we can help you, we will handle your case on a contingency basis which means we only get paid if we win. And unlike some lawyers, we advance all case expenses so you do not have to pay anything out of your own pocket to pursue your legal rights. For more information on our fees and case expenses, click here.
Contact Us Today!
Call our Murfreesboro office anytime at 615-867-9900 or toll-free at 866-812-8787 or simply fill out this online form and we will call you. But, act quickly. The law only allows you a limited time to pursue your rights before they are lost forever.