Motorcycle Accidents – Blindspot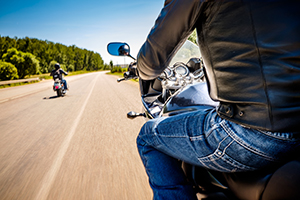 According to the National Highway Traffic Safety Administration, 41% of all motorcycle crashes are due to other drivers not seeing the motorcycle. At the Law Offices of John Day, we refer to this as the mental blind spot. In other words, car and truck drivers simply do not think about and look out for motorcycles in the same way as they do for other vehicles on the road. And then of course, there are true blind spot accidents where the car or truck driver fails to check their blind spot or no zones and merge or change lanes into the motorcycle.
Some experts now suggest that blind spots on cars can be completely eliminated by proper adjustment of rearview mirrors. In fact, Car and Driver has an article educating drivers on how to eliminate the blind spot with window placement.
In addition, here are some other ways that car and truck drivers can avoid hitting a motorcyclist in their blind spot:
If your vehicle has a Blind Spot Warning (BSW) system, use it. Many BSW systems either vibrate the steering wheel, emit an audible alert, flash a warning in your side mirror or a combination of these things if anything is in your blind spot. For example, some BSW systems will have a warning light in the rearview mirror when something is in your blind spot and then will emit an audible alert if you activate your turn signal on the side in which your blind spot is occupied.
Not surprisingly, that bring us to our next piece of advice. Use your turn signals. If a motorcyclist is in your blind spot and sees the activation of your turn signal, it gives them an opportunity, at least, to try and take evasive action.
After signaling, change lanes slowly. Avoid rapid movements that leave little reaction time for other drivers.
Do not drive distracted as you are likely to miss important observations. For example, if a motorcycle has been behind you in traffic and then you no longer see it, there is a good chance the motorcycle is now passing you in an adjacent land and is in your blind spot. If you are not paying attention, you might not realize this.
While it is terribly old-school, it is also terribly effective. Look over your shoulder before changing lanes if you cannot adjust to new side mirror settings or do not have a BSW system in your vehicle.
If you are a motorcyclist who has been involved in a blind spot accident, schedule a free consultation to determine if you have a valid claim. We charge no upfront fees and we only get paid if we recover compensation for you. Our award-winning lawyers are experienced at helping motorcycle accident victims receive the compensation they deserve. Getting started is simple: fill out this online form and we will call you or give us a call at one of our office locations. We are available anytime and we are happy to come to you anywhere in the State of Tennessee.

Nashville: 615-669-3993
Murfreesboro: 615-867-9900
Brentwood: 615-742-4880
Toll-Free: 866-812-8787