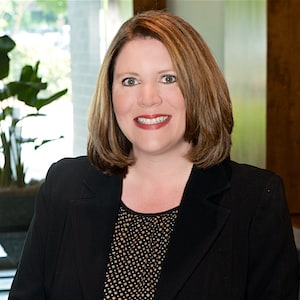 Laura Baker
Laura Baker is a Shareholder with the Law Offices of John Day where she handles personal injury, wrongful death, and tort litigation for individuals across the state of Tennessee. In her practice, Laura represents people who have been seriously injured as a result of the carelessness of others. She also represents families who have suffered the loss of a loved one in wrongful death accidents.
Professional Honors
Laura's reputation and experience have earned her the AV® Preeminent™ ranking from Martindale-Hubbell through its peer-review system, which indicates a ranking at the highest level of professional excellence. In 2015, Laura was a winner of the Nashville Business Journal's "40 Under 40" award. Hundreds of professionals were nominated and Laura was chosen based on her professional accomplishments as well as her community involvement. Laura was also recognized as one of the "Best of the Bar" by the Nashville Business Journal in 2015. Finally, Laura has been selected as a Mid-South Super Lawyer in both 2013 and 2014, and a Mid-South Super Lawyers Rising Star in 2012.
Professional Activities
Laura is a leader in the legal community. She served as the President of the Lawyers' Association for Women, Marion Griffin Chapter from 2014-2015. She previously has served this organization in a number of other leadership roles, including as Treasurer from 2012-2013.
Laura is the Chair of the Legislation Committee for the Tennessee Lawyers' Association for Women. She is also a member of the Bench Bar Committee of the Tennessee Judicial Conference. Laura is a Barrister of the Harry Phillips American Inn of Court.
Laura is a member of the Nashville, Tennessee, and American Bar Associations. She was recently selected as one of 28 inaugural members of the Nashville Bar Foundation Leadership Forum. In 2013, she was selected to the Tennessee Bar Association Leadership Law class, an honor reserved for approximately 30 lawyers across the state each year.
Laura is frequently invited to speak to other members of the bar in continuing education programs on topics of interest in civil litigation and tort law. Her recent speeches have focused on topics of liability in automobile wreck cases, uninsured motorist coverage issues, liquor liability claims, settlements on behalf of minors, and deposition rules.
Community Involvement
Laura also gives back to the community. From 2010 to 2014, Laura co-chaired "Lawyers for Littles," an annual bowling fundraiser for lawyers and legal professionals benefitting Big Brothers Big Sisters of Middle Tennessee. She is also a co-founder of this event, which raised $100,000 in the five years that Laura served as co-chair.
Education
A native of Nashville, Laura graduated from Rhodes College and the University of Tennessee College of Law. In law school, Laura focused her studies on advocacy and dispute resolution and earned the Tennessee Attorney General's Award of Excellence in Trial Advocacy in 2006. She also served on the editorial board of the Tennessee Journal of Law & Policy.
Personal
Laura is married to JT Baker, a Business Coordinator for Vanderbilt University Medical Center. They live in Nashville with their two dogs, Shelby and Molly, and enjoy camping, golfing, and traveling.
Email Laura at lbaker@johndaylegal.com or call 615-742-4880.
Speeches & Engagements
Sophisticated Deposition Strategies
Tennessee Attorneys Memo, Tort Law Conference
Nashville, Tennessee – September 25, 2015
Maximizing Uninsured Motorist Coverage in Tennessee from the Plaintiff's Perspective
Tennessee Attorneys Memo Live Webinar
M. Lee Smith Publishers - July 8, 2015
Auto and Trucking Update
Tennessee Association for Justice, Annual Review
Nashville, Tennessee - December 4, 2014
15 Deposition Rules to Remember
Tennessee Bar Association, Mastering the Deposition: Critical Skills and More
Nashville, Tennessee - April 10, 2014
Theories of Liability in Automobile Wreck Cases
Tennessee Attorneys Memo Tort Law Conference
Nashville, Tennessee - December 13, 2013
Rule 12 Motions / Dealing with Bogus Affirmative Defenses
Tennessee Association for Justice, Annual Review
Nashville, Tennessee - December 12, 2013
Personal Injury Introduction
Tennessee Bar Association, General Practice Bootcamp 2013
Nashville, Tennessee - August 15, 2013
Belli Program: Motions to Strike
Tennessee Association for Justice
Nashville, Tennessee - June 13, 2013
Panelist, "Speed Mentoring"
Tennessee Bar Association, Diversity Leadership Institute
Nashville, Tennessee - January 19, 2013
Liquor Liability Claims in Tennessee: Who Can Be Left Holding the Bag?
Tennessee Attorneys Memo Tort Law Conference
M. Lee Smith Publishers - December 14, 2012
Personal Injury Cases in Tennessee: Subrogation, Reimbursement, and Liens for Medical Benefits
Tennessee Attorneys Memo Live Audio Conference
M. Lee Smith Publishers - November 15, 2012
Medical Proof Requirements in Personal Injury Cases
Tennessee Attorneys Memo Live Audio Conference
M. Lee Smith Publishers - August 22, 2012
Liquor Liability Claims in Tennessee: Who Can Be Left Holding the Bag?
Tennessee Attorneys Memo Live Audio Conference
M. Lee Smith Publishers - October 18, 2011
Invited Speaker: Workers' Compensation Law
United Food & Commercial Workers Local 1995 Annual Steward Conference
Chattanooga, Tennessee - September 25-27, 2011
More Insurance in Auto Accident Cases in Tennessee: Exploring All Possibilities
Tennessee Attorneys Memo Live Audio Conference
M. Lee Smith Publishers - June 14, 2011
Personal Injury Cases - What Role Can the Legal Nurse Consultant Play?
Tennessee Chapter of the American Association of Legal Nurse Consultants
Nashville, Tennessee - March 12, 2011
Uninsured/Underinsured Motorist Claims: How to Serve Your Clients More Effectively
Tennessee Attorneys Memo Live Audio Conference
M. Lee Smith Publishers - September 16, 2010
Settlements on Behalf of Minors: Protecting Your Clients and Yourself
Tennessee Attorneys Memo Live Audio Conference
M. Lee Smith Publishers - July 21, 2010
Locality Rule: Recent Case Law Update
Tennessee Medical Malpractice Conference
Nashville School of Law, Nashville, Tennessee - May 21, 2010
Dram Shop Laws
"Let's Talk Law" with Steve Oberman (aired on WNOX-FM 100.3 News Talk 100)
Knoxville, Tennessee – November 1, 2009
Litigation Skills for Legal Staff
Lorman Education Services
Nashville, Tennessee