GranuFlo and NaturaLyte Injury Attorneys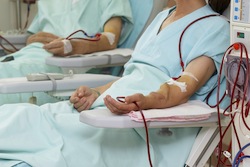 The Law Offices of John Day, P.C. is currently investigating cases related to Granuflo and NaturaLyte products. Both GranuFlo and NaturaLyte are manufactured by Fresenius Medical Care and are used to help treat dialysis patients. These drugs have been linked to a condition known as metabolic alkalosis, which is a high serum bicarbonate level in the blood. Metabolic alkalosis can cause heart problems, cardiac arrest, stroke and death.
Let's face it: at some point in our life, we will all rely upon a prescription or over-the-counter medication to help us with some type of ailment. And so, we rely upon the manufacturers of medications to provide us with safe, reliable products. But all too often, mistakes are made and the medication that was supposed to help us get better actually makes us sicker or even kills us. When that happens, our product liability attorneys can help you get the compensation and the justice you deserve.
Cases against drug manufacturers are complex, and the attorney must have an intimate understanding of not only personal injury law but also product liability law. Further, it is critical for the attorney to understand the patient's underlying medical conditions. At The Law Offices of John Day, P.C. our attorneys and on-staff nurse are well-versed in each of these areas. Since 2007, John Day has been recognized by Best Lawyers in the areas of product liability litigation, personal injury litigation and medical malpractice law. In 2009, Best Lawyers selected John Day as Personal Injury Lawyer of the Year for Nashville. In 2010, Best Lawyers named John Day the Medical Malpractice Lawyer of the Year for Nashville. And, our lawyers have received other professional honors and awards for our exceptional work on behalf of injury victims and their families.
If you or a family member has suffered a heart attack, stroke or death following dialysis in a Fresenius or non-Fresenius, contact us today. The law only gives you a limited time to pursue your rights, so do not delay. Contact us online or call 615-742-4880 or toll-free at 866.812.8787. We will provide you with a free, no-obligation consultation in which we answer your questions and advise you of your rights. If your situation makes it difficult to come to our office, we will gladly come to you.