Golf Cart Accidents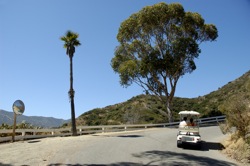 Golf carts used to be just that -- carts that were used for the game of golf. But now, golf carts are being used for transportation in retirement communities, sporting events, airports, camps and in a host of other ways. The increased use is attributable, at least in part, to better technology. Today's golf carts can achieve speeds of 25 mph and travel 40 miles with a single charge to their battery.
And, with increased use comes increased opportunities for injuries especially since golf carts do not have to comply with Federal Motor Vehicle Safety Standards which mandate such safety equipment as seat belts, airbags, etc. According to the Consumer Product Safety Commission, there are roughly 15,000 golf cart injuries per year, and 40% of those accidents involve children. The majority of accidents involving children occur when the child falls from the golf cart. Because the handrail actually acts as a fulcrum in some accidents, children often land on their heads and sustain significant brain injuries.
Following a serious golf cart accident, it is critical for you to have an experienced attorney on your side. Physical evidence needs to be preserved and the accident scene needs to be photographed and analyzed, oftentimes by an expert who specializes in accident reconstruction. Every aspect of the accident needs to be thoroughly evaluated to determine the cause. Sometimes, the accident is caused by a reckless or inebriated driver. Other times, the golf cart itself is defective or lacked proper warnings. Regardless of the cause, the responsible party should be held accountable for the damages, which may include medical bills, lost wages, lost earning capacity, pain and suffering, scarring and disfigurement, loss of enjoyment of life, loss of consortium and future medical care.
At the Law Offices of John Day, we have decades of experience in representing injury victims including those injured in golf cart accidents. Our hard work and reputation have earned the praise of our clients and other awards and accolades including:
Mid-South Super Lawyers Top 100 (2006 to present)
Nashville's Top 101 Lawyers by the Nashville Post (2011)
"Best Personal Injury Lawyer for Nashville" by Best Lawyers (2009)
Best Lawyers recognition for Personal Injury and Products Liability Litigation (2009-present)
Named one of the country's best lawyers by Best Lawyers (1993 to present)
The Law Offices of John Day, P.C. has been ranked as one of the country's best firms by U.S. News and World Report;
Business Tennessee has repeatedly named John Day as one of the State's best attorneys;
Our lawyers have also been honored by other lawyers -- earning Super Lawyers awards and Martindale-Hubbell AV Preeminent ratings.
If you or a loved one has been injured in a golf cart accident, please contact us online or call us at 615-742-4880 (Nashville) or 615-867-9900 (Murfreesboro) or 866.812.8787 (toll-free) for a free, no-obligation consultation. We handle all golf cart accident cases on a contingency basis which means we do not get paid unless we recover money for you. And, you will not be out of pocket any money to pursue your case as we advance all case expenses.