Food Allergy Symptoms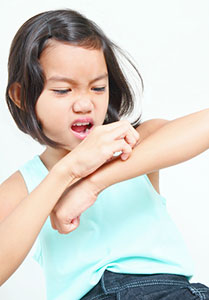 Symptoms of a food allergy reaction typically onset within a few minutes to a few hours after ingestion of the allergen. Of course, the severity of the reaction depends upon the person but some common symptoms are:
Itching
Wheezing
Dizziness or faintness
Nausea including diarrhea and vomiting
Shortness of breath
Hives
Chest tightness
Eczema
In severe cases, an individual may develop a reaction called anaphylaxis, which is a serious and sudden reaction which can affect multiple parts of the body. Symptoms include: swollen throat which causes breathing difficulty, a severe drop in blood pressure, lightheadness, dizziness, loss of consciousness, rapid pulse, constriction or tightening of the airways. A person experiencing anaphylaxis needs emergency medical treatment. Otherwise, a coma or death could result.
Children may have a greater difficulty recognizing and articulating their symptoms. As such, caregivers including schools, daycares and preschools should be aware of the language typically used by children who are experiencing an allergic reaction. According to the Centers for Disease Control and Prevention, children often describe a food allergy reaction as follows:
My mouth or tongue is tingling
My mouth or tongue is burning
My tongue feels like there is hair on it.
It feels like something is stuck in my throat
My tongue feels heavy or full
My tongue itches
My mouth itches
It feels like my lips are tight
It feels like there are bugs in my ears
My throat feels thick
It feels like there is a bump on the back of my throat (or tongue)
If you or a loved one has suffered serious injuries as result of a food allergy reaction, one of our award-winning attorneys can review your case, answer your questions and outline your legal options in a free, no-obligation consultation. Because we handle all food allergy cases on a contingency basis, it never costs you a cent out of your own pocket to pursue your rights and we only get paid if we win. Contact us online or call us at 615-742-4880 or toll-free at 866.812.8787.