Ethicon Physiomesh Lawsuits
Recall of Ethicon Physiomesh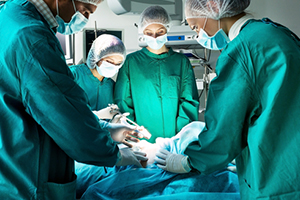 On May 25, 2016, Ethicon (a subsidiary of Johnson & Johnson) voluntarily recalled Ethicon Physiomesh. The recall came after Ethicon did an internal review of two, large, independent hernia registries which showed the recurrence rate and the reoperation rate after laparoscopic ventral hernia repair with Ethicon Physiomesh were higher than average. Click here to see a copy of the recall complete with product codes.
The Urgent Field Safety Notice instructed doctors to no longer use the Physiomesh for hernia repair. Incredibly, Ethicon cannot identify the product feature causing the problem and Ethicon is unable to provide any instructions to surgeons on how to prevent the problems.
What Was Ethicon PhysioMesh Used For?
In recent years, there have been numerous lawsuits stemming from the use of certain meshes including vaginal meshes. Ethicon Physiomesh was used primarily in the repair of hernias, although the FDA approval also permitted it to be used in "other fascial deficiencies that require the addition of a reinforcing or bridging material to obtain the desired surgical result."
Ethicon has two types of hernia repair meshes. The mesh currently being recalled is the type used in laparoscopic surgeries, which is called Ethicon Physiomesh Flexible Composite Mesh. At present, the mesh being placed via open surgery, Ethicon Physiomesh Open Flexible Composite Mesh has not been recalled.
Ethicon Physiomesh Flexible Composite Mesh is a sterile, low-profile, flexible composite mesh comprised of nonabsorbable macroporous polypropylene mesh laminated between two undyed polygelcparone-25 films. Another undyed polydiozanone film bonds the mesh and the films.
What Problems Are Caused by Ethicon Physiomesh?
Ethicon Physiomesh can cause a myriad of problems including infections, fistulas, non-healing wounds, bowel adhesions, bowel perforations and bowel obstructions. These problems often require another surgery and long hospitalizations.
What Do You Do If You Have Physiomesh?
The Urgent Field Safety Notice issued by Ethicon simply instructs health care practitioners to treat patients in the "usual manner". And therein lies the problem. The mesh has been surgically implanted into patients. The only way to reduce the risk of infections, non-healing wounds, bowel adhesions, bowel obstructions, bowel perforations, immune responses, etc. is to remove the mesh, which means another surgery for patients. And while Ethicon apologizes to health care providers for any disruption and inconvenience caused by the recall, there is no apology to patients.
So if you or someone you know has experienced a hernia recurrence after the use of Ethicon Physiomesh Flexible Composite Mesh or has required surgery because of the other problems like bowel perforation, then give us a call to discuss your legal options. Our award-winning lawyers will be glad to review your case with you and answer your questions for no charge whatsoever. If we think we can help and if you decide to hire us, we handle all Ethicon Physiomesh cases on a contingency fee basis, so we only get paid if we recover money for you. And, we advance all case expenses so you do not have to pay anything out-of-pocket to pursue your legal rights. For more information on fees and expenses, click here.
To get started, simply give us a call at 615-742-4880 (Nashville) or 615-867-9900 (Murfreesboro) or 866.812.8787 (from anywhere else in the State of Tennessee or other states). Or if you prefer, just fill out this contact form and we will call you. If you suspect a problem from the Ethicon Physiomesh, please do not delay. The law only allows you a limited time to pursue your rights.