Day on Torts Book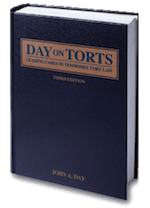 "Quick! I need a case that says ..."
If you are an associate in a law firm, you've heard it. If you are a partner, you've said it. Day on Torts provides a quick, reliable resource of the leading Tennessee tort cases that will answer the questions you regularly face in your tort practice.
Buy the Book and the 2016 Supplement
$179.00 + S&H
Buy the 2016 Supplement Only
$49.00 + S&H
For lawyers with less than 5 years of experience, we offer a discounted book price of $149.00 + S&H.

* Total price does not reflect taxes for shipments to Tennessee.
Applicable taxes will be applied at checkout
Day on Torts: Leading Cases in Tennessee Tort Law, Third Edition. By John A. Day
Written by John A. Day, Civil Trial Specialist, 2012 Best Lawyers Bet-the-Company Litigation Lawyer of the Year for Nashville and 2012 Best Lawyers in America listed in Personal Injury, Medical Malpractice, Products Liability, Commercial and Bet-the-Company Litigation, Day on Torts identifies more than 300 Tennessee tort law subjects and provides summary of the leading case on each subject to give you a quick, readable synopsis of current state of the law. Many of the summaries include citations to other cases, giving you even more insight and helping narrow the scope of your research. Day on Torts will save you hours of research each month...time that can be spent developing new clients for your practice. You'll have at your fingertips:
Leading Tennessee cases on more than 300 tort law subjects
Easy-to-read format
Citations to 1000s of other cases