Damages Recoverable from a Truck Accident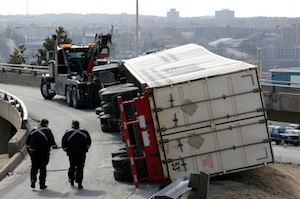 If you or a loved one has been injured in an accident by a careless trucker, you are generally entitled to receive compensation for the following:
Pain and Suffering - This category of damages is exactly as it sounds. If you had broken ribs or required surgery, you are entitled to compensation for the pain and suffering associated with those injuries. This category of damages is capped by Tennessee law.

Medical Bills - This category of damages is easy to understand but can be complicated due to subrogation rights by health insurance companies.

Lost wages - This category of damages is self-explanatory but requires quality documentation in order to recover all monies owed.

Lost earning capacity - This is the reduction in your income as a result of your injuries. For example, you are now confined to doing light-duty work which does not pay as well as the work you were performing before you were injured.

Permanent Impairments - If you suffered a loss of vision in an eye or you suffered some form of paralysis, then these are permanent impairments and you are entitled to compensation for those losses. Less severe but nonetheless permanent injuries are also included in this category.

Loss of Enjoyment of Life - If you used to be an avid skier but can no longer do that physical sport because of an injury sustained in the accident, you are entitled to compensation for that loss.

Scarring or Disfigurement - This category of damages is self-explanatory.

Property Damage - This is self-explanatory but can be complicated in some instances.

Future Medical Care - Some serious injuries will require a lifetime of care, so it is critical that you have the appropriate experts outline the care that will be needed and its cost.

All of the damages listed above fall within the overall of
compensatory damages
. In other words, they are damages the responsible party must pay in an attempt to compensate you for your losses and make you whole again. In some cases, there is another category of damages that could be recoverable. Those damages are called
punitive damages
. These damages are designed to punish the person who caused the accident. They are available when the wrongdoer has been reckless (more culpable than just careless). For example, in a trucking case, punitive damages might be available if the truck driver was under the influence of alcohol or drugs or if the trucking company destroyed evidence following the wreck. Punitive damages require a higher standard of proof in addition to showing a higher level of culpability.
If you or someone you love has been seriously injured in a trucking accident, we encourage you to seek legal help immediately. Our award-winning team of attorneys have more than 100 years of combined experience in helping truck accident victims. We have a nurse on staff full-time to assist with medical questions and issues. And, we know qualified experts to help prove fault in the accident and explain your injuries and the impact they have had on your life, your family and your future.

To get started, simply contact us today and let us help you get the maximum compensation reasonably possible for your injuries. We will discuss your case with you for free and help you understand your legal rights and options, and we handle all trucking accident cases on a contingency basis so we only get paid if we recover money for you and your family. Call us anytime at:

Nashville: 615-669-3993
Murfreesboro: 615-867-9900
Brentwood: 615-742-4880
Toll-Free: 866-812-8787

Other Truck Accident Information: