Damages Recoverable From a Bus Accident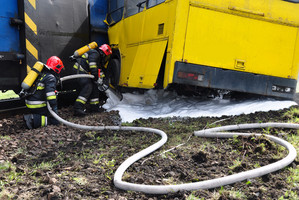 If you or a loved one has been injured in a bus accident, the following items are generally recoverable:
Damages for pain and suffering
Medical bills
Lost wages
Lost earning capacity
Permanent impairments
Loss of enjoyment of life
Scarring or disfigurement
Lost earning capacity
Property damage
Future medical care
Our team of bus accident attorneys has more than 80 years of experience in fighting for injury victims. In addition, we employ a full-time nurse to assist with medical issues and questions. In appropriate cases, we hire qualified experts to help explain your injuries and their impact on your life. For instance, in some cases, we may need to hire a life-care planner to prepare a comprehensive report on the medical treatment you will need in the future, the modifications you need to make to your home because of your injuries, etc. Or, we may need to hire an economist to outline the financial costs of your injuries in terms of lost wages, lost earning capacity, etc.
In short, we know the physical, emotional and financial burdens caused by bus accidents, and we know how to make sure you get the maximum compensation reasonably possible. We have recovered more than $100 million dollars for our clients and we want to help you. Contact us online or call us anytime of day at 615-742-4880 or toll-free at 866.812.8787.
Other Bus Accident Information: