Damages Recoverable From a Bus Accident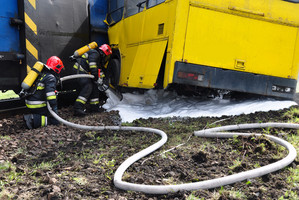 In Tennessee, following a bus accident, an injured person can generally recover two types of damages from the party responsible for the wreck: economic and non-economic damages. Both of these types of bus accident damages are discussed below.
Economic damages are those which can readily be calculated and include things such as medical bills (past and future), lost wages, lost earning capacity and property damage. For instance, if your car was totaled in the bus accident, you are entitled to the fair market value of your car. One common way to determine that fair market value is to look at the NADA or National Auto Dealers Association book. Likewise, if you missed time from work, you are entitled to be compensated for those lost wages. The amount can be determined by looking at your W2 or tax returns or by getting an affidavit from your employer about your losses. Testimony from a life care planner can help an insurance company or jury understand the incredible financial cost associated with caring for someone seriously injured after an accident. For instance, a life care planner, working in conjunction a with a doctor, can calculate that an injury victim may need 3 knee replacements over their lifetime and calculate the financial costs of those surgeries.
On the other hand, non-economic damages are those types of damages that are not readily calculable and they include pain and suffering, scarring or other types of permanent disfigurement and permanent impairments. These types of damages can vary widely. For instance, a horrible scar on a 70-year old man's leg typically does not have the same value as a horrible scar on a 7-year old boy's face. These damages will depend on many factors and cannot just be calculated by looking in a book or at some type of document.
With either type of damage, an injury victim will undoubtedly benefit from having an attorney. A skillful attorney can help the injury victim calculate the economic damages. In some cases, an economist may be needed to fully explain such damages as lost earning capacity. As for non-economic damages, an experienced attorney can help explain how the injury has affected and will affect the injury victim. For instance, A Day in the Life video can help an insurance company or a jury understand the struggles a paraplegic encounters every day.
Here is the bottom line: if your or a loved one has been injured in a bus accident, we highly recommend you retain a lawyer to help you make sure you receive all the compensation you deserve. Once you sign the settlement papers, you almost certainly will not be able to ask for more even if you need more. So please get legal help even if it is not us. If you would like to learn more about what you should know before hiring an attorney, we invite you to read more here.
If you would like to talk to one of our award-winning lawyers about your bus accident case, just give us a call. We offer a free, no-obligation consultation, and we handle all bus accident cases on a contingency basis. We have three office locations to serve you. Or if necessary, we will come to you if you can't come to us for any reason. Call us today.
Nashville: 615-669-3993
Murfreesboro: 615-867-9900
Brentwood: 615-742-4880
Other Bus Accident Information: