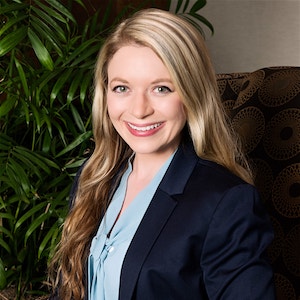 Caroline E. Sapp
Overview
Caroline E. Sapp is one of our six attorneys at The Law Offices of John Day, P.C. and has successfully represented hundreds of clients who have been injured across Tennessee.
Caroline comes from a long line of legal professionals, which influenced her decision to choose law as a career. Her great-grandfather was a judge and sheriff in White County, Tennessee; her great uncle was a former trial attorney and district attorney in the Upper Cumberland; her grandmother was Clerk and Master in White County for over thirty years; and her aunt is the current Clerk and Master in White County, Tennessee.
She was named a 2018 Mid-South Super Lawyers Rising Star, and selected as one of the twenty-five members of the 2019 Nashville Bar Foundation Leadership Forum. She is a member of the Nashville Bar Association where she is the Managing Editor and co-chair of the Nashville Bar Journal. In 2016, she was named "Contributor of the Year" for her work on the Journal. She is also a member of the Tennessee Bar Association, Lawyers' Association for Women, Marion Griffin Chapter, where she serves as chair of the Publicity, Technology, and Social Media Committee, and the Upper Cumberland Young Lawyers Association, where she serves as President Elect / Vice President.
Not only is Caroline committed to helping her injured clients, she also is committed to helping others in her community; her community and pro bono activities have included Packs for Pints, an event she spearheaded to benefit foster children in the Upper Cumberland; Lawyers for Littles bowling fundraiser, which benefits Big Brothers Big Sisters of Middle Tennessee; Joint Operation for Veterans, which assists veterans with legal services; Putnam County Schools "Fairy Tales on Trial" Mock Trial Competition; and the Nashville Bar Association's Sit-In Program where she presented a lesson to students at Hillsboro High School regarding the 1960s lunch counter sit-ins in Nashville. She has also served as a scoring judge for the Tennessee Bar Association's and Nashville Bar Association's Mock Trial tournaments.
While in law school, Caroline served as a Research Assistant to Professor Jodi L. Wilson and interned for the Honorable Bernice B. Donald in the United States Court of Appeals for the Sixth Circuit. She was selected as Editor-in-Chief of the Mental Health Law & Policy Journal, as a Grading Committee Member on the Moot Court Board, one of the three oral advocates on the Wagner Labor and Employment Law Moot Court team, a Student Pupil for the Leo Bearman, Sr. Inn of Court, a student ambassador, and a student orientation leader.
When Caroline's not practicing law, you can find her with her rescued Shetland Sheepdogs, running, and traveling – her favorite travel spots to date include Northern California, the Oregon coast, Washington, Morocco, Greece, Spain, Austria, Germany, Slovakia, and Rock Island State Park.
Education
Tennessee Technological University, B.A., M.A.
University of Memphis Cecil C. Humphreys School of Law, J.D.
Publications and Speeches
Publications
Dog Parent Duties: A Dog Owner's Responsibilities in Tennessee, 18 Nashville Bar Journal 3 (2018)
Some Not So Minor Considerations for Settlements for Minors, Legal Summit (March 2018)
Syria and The Refugee Crisis, 17 Nashville Bar Journal 4 (2017)
Revenge & Privacy Protection: Tennessee Takes a Stand Against Nonconsensual Distribution of Private Images, 16 Nashville Bar Journal 2 (2016)
Tennessee's Waltz With Charter Schools: When Will The Music Stop, 16 Nashville Bar Journal 2 (2016)
Rehabilitate or Incarcerate? A Comparative Analysis of the United States' Sentencing Laws on Low-Level Drug Offenders and Portugal's Decriminalization of Low-Level Drug Offenses, 23 Cardozo Journal of International & Comparative Law 1 (2014)
Protecting the Victims of Cyberbullying: An IDEA, 23 Mental Health Law & Policy Journal 1 (2013)
When in Rome, Homespun (2012)
Risky Writing, CompTime Annual (2011)
Speeches
A Dog Owner's Responsibilities in Tennessee, Tennessee Paralegal Association, 2018
Dog Days of Summer: CLE and Yappy Hour, Nashville Bar Association, Panelist, 2018
Panel: How My Master's in English Led to a Career in Law, Tennessee Technological University, October, 2017
Bones, Bumpers, and Bottom Lines, Sparta Rotary Club, September, 2017
Bar Service
Upper Cumberland Young Lawyers Association

President Elect / Vice President, 2018 - present

Lawyers' Association for Women, Marion Griffin Chapter

Chair of Publicity, Technology, and Social Media, 2017 - present
Co-Chair of the Judicial Appointments and Nominations Committee, 2015 -2016

Tennessee Bar Association, 2015 - present
Nashville Bar Association, 2015 - present

Nashville Bar Journal

Managing Editor and Co-Chair, 2018 - present
Author and Editor, 2015 - present
Awards
Nashville Bar Foundation's Leadership Forum, 2019
Mid-South Super Lawyers Rising Star, 2018
Contributor of the Year, Nashville Bar Journal, 2016
Law Student for Justice, Tennessee Supreme Court, 2014
Student Pupil for the Leo Bearman, Sr. Inn of Court in Memphis, Tennessee, 2013 - 2014
CALI Excellence for the Future Awards in Comparative Law Seminar and Elder Law Clinic
Dean's Distinguished Pro Bono Service Award, 2012
Community Involvement
Packs for Pints, an event benefitting foster children in the Upper Cumberland, Upper Cumberland Young Lawyers Association, 2018
Joint Operation for Veterans, Volunteer for Legal Services, Cookeville, Tennessee, 2018
Lawyers for Littles bowling fundraiser, benefitting Big Brothers Big Sisters of Middle Tennessee
Nashville Bar Association's Sit-In Program, presentation of a lesson to students at Hillsboro High School, regarding the 1960s lunch counter sit-ins in Nashville
Law Firm Trivia Challenge to Benefit Cystic Fibrosis
Judge, Tennessee Bar Association's Mock Trial Tournament
Judge, Nashville Bar Association's Mock Trial Tournament
Judge, Putnam County Schools "Fairy Tales on Trial" Mock Trial Competition
Student Attorney, Elder Law Clinic, 2014
Alternative Spring Break, 2012
Homeless Connect, 2012