Car Accidents Involving Elderly Drivers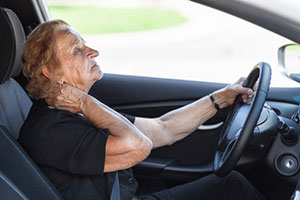 Taking the keys away from an elderly driver can be a difficult and emotional task. Elderly drivers do not want to lose their independence and often fail to recognize that their driving skills have deteriorated. Yet, statistical evidence demonstrates crash rates for drivers over age 70 begins to climb with yet a more dramatic increase after age 80. In some states, elderly drivers must renew in person or provide a statement certifying their fitness from a physician or take a road test, etc. However, in Tennessee, there are not any additional requirements for elderly drivers. Just like the general population, elderly drivers can renew online or in person and they do not have to provide proof of adequate vision or physical fitness.
Statistics on Elderly Drivers
As a group, elderly drivers are not as dangerous as teenage drivers because they do tend to wear their seatbelts, drive at or below the speed limit and avoid risky behavior behind the wheel such as drinking and driving. Yet, there are some troubling statistics especially considering the State of Tennessee does not impose any special checks on their fitness to drive:
Drivers age 70-79 tend to misjudge the speed and distance of oncoming vehicles and thus often fail to recognize it is not safe to proceed. As result, roughly half of all fatal crashes involving drivers 85 and older are intersection accidents.
Approximately 75% of drivers over age 65 take medications but less than one-third are aware of how those medications can impact their driving abilities.
Seniors over age 85 have the highest rate of pedestrian deaths, and researchers attribute this to failing vision for this group of drivers.
When It Is Time to Take the Keys from an Elderly Driver
Below are some signs it might be time to find an alternative form of transportation for an elderly driver in your life:
Repeated fender benders or numerous near misses;
Driving too fast or driving way too slow;
Getting lost even in their home communities;
Repeated moving violations or warnings;
Difficulty turning their head to check for pedestrians, bicyclists or other vehicles. This is most common in those elderly drivers suffering with serious arthritis;
Difficulty maintaining their lane of travel.
Legal Liability of Elderly Drivers
Elderly drivers are required to obey the same rules of the road as other aged drivers. To the extent an elderly driver suffers a true medical emergency that they could not have foreseen such as a heart attack or a stroke, they may be able to successfully assert a sudden emergency defense. However, this defense is very fact-specific and limited. Because many seniors are on limited budgets, they may try to save on their insurance premium by reducing their insurance coverage. Therefore, it is important for an experienced lawyer to determine the extent and applicability of any insurance coverage including uninsured or underinsured motorist coverage.

Our award-winning lawyers handle all accident cases on a contingency basis so we only get paid if we recover money for you. If you would like a free, no-obligation consultation about your accident with an elderly driver, give us a call at:

Nashville: 615-669-3993
Murfreesboro: 615-867-9900
Brentwood: 615-742-4880

Toll-Free: 866-812-8787