Bard 3DMax Hernia Mesh
What is Bard 3DMax Hernia Mesh and what problems does it cause?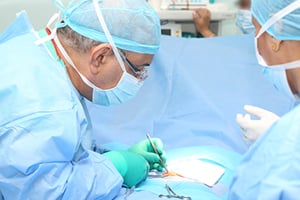 Bard 3DMax hernia mesh is a pre-formed, curve-shaped mesh comprised of knitted polypropylene monofilaments. Since it was designed specifically for the inguinal anatomy, it is commonly used in inguinal hernias repairs. Inguinal hernias occur in the groin area and most often in men. Reports suggest the polypropylene monofilaments in the Bard 3DMax hernia mesh shrink over time and cause the product to fail. The failure often implicates the spermatic cord which can cause many problems including severe pain, sexual dysfunction and even the removal of a testicle.
How do I know if Bard 3DMax was used to repair my hernia?
In order to confirm what type of product was used in your hernia repair, we will need to get copies of your medical records. We do this by having you sign a release that we in turn send to the hospital. We advance the cost of obtaining these records. Once we have the records, we will look for the traceability label. The traceability label identifies the manufacturer, type of product, the lot number of the product, etc. As part of the surgery, that label is placed in the patient's medical records so that future providers and others can know exactly which product was used.
Even if Bard 3DMax was not used in your hernia repair, there are a number of hernia mesh products that are now the subject of investigations, lawsuits and recalls so it may be that one of those other products was used and you may still have a claim.
What do you charge to handle Bard 3DMax cases?
At The Law Offices of John Day, P.C. our award-winning lawyers handle all hernia mesh cases on a contingency basis. A contingency basis means we only get paid if we recover money for you and your family. In addition, we know that many of our clients face mounting medical bills and are often out of work for long periods of time due to their injuries, so we do not ask our clients to pay a penny out-of-pocket to pursue their hernia mesh case. Instead, we advance all the expenses, and we do not charge interest on the advances. If we are not successful, you do not have to pay us back. Click here to learn more about how we handle fees and case expenses.
What do I do if I am having serious problems from a hernia repair?
Call us at 615-742-4880 (Nashville) or 615-867-9900 (Murfreesboro) or 866.812.8787 (toll-free) for a free, confidential, no-pressure case evaluation. We will review the facts of your case, answer your questions and let you know whether we think we can help you. But, do not delay, the law only allows you a limited time to pursue your rights and once they are gone they cannot be restored. To learn more about our firm, the awards we have won, the results we have obtained for other clients, etc., please take some time to review our website. We are honored by what former clients have to say about how they were treated by our firm and the difference we made in their lives. Then, give us a call and we will see if we can help you too. Call 615-742-4880 (Nashville) or 615-867-9900 (Murfreesboro) or 866.812.8787 (toll-free from anywhere). Or, you can contact us online and we will call you.